Design Hotels launches its second pop-up hotel in Mykonos, Greece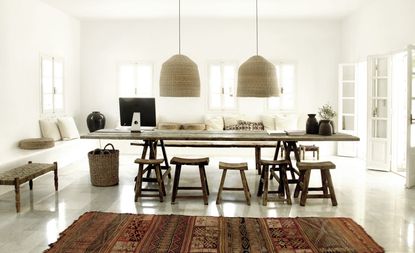 (Image credit: press)
Following on from the recent success of its first pop-up project in Mexico (opens in new tab), Design Hotels (opens in new tab) has once again come up trumps, this time with a Mediterranean beach sojourn on the Greek island of Mykonos.

Named San Giorgio (opens in new tab), the 34-room temporary hotel is a continuation of the group's desire to create down-to-earth lodgings with an informal, free spirited approach. 'Designed as shifting hubs, they provide an open platform for creatives to gather and shape meaningful moments,' explains company founder Claus Sendlinger (opens in new tab). The result is a hotel that feels like a friend's house, a comforting bohemian sanctury, unaffected by the outside world.

Located on a blissful strip of beach which had humble beginnings under the ownership of a local fisherman in the 1990s, San Giorgio hotel is now in the capable hands of German-born Thomas Heyne and Mario Hertel (of the island's celebrated Paradise Club (opens in new tab)) and Markos Daktilidis, owner of the nearby Paradise Beach (opens in new tab) resort.

Reinvigorated by Michael Schickinger, former creative director of Design Hotels, along with interior designer Annabell Kutucu, the hotel exhibits minimalist, airy rooms scattered with local artifacts, in a natural colour palette that complements the whitewashed exterior, itself synonymous with the Greek landscape.

The property also houses Cantina Restaurant, an open-plan 30-seater that focuses on local, organic ingredients and dishes such as mussels with smoky bacon and cider and a regional fish stew called Aegean kakavia.

Only recently opened, the temporary abode has no end date in sight. But for now it offers a serene place to retreat after a day of beach-hopping or the exertions of a night out at the Paradise Club - to which, naturally, each hotel guest receives VIP access.