Centre stage: Copenhagen's first luxury boutique hotel takes the spotlight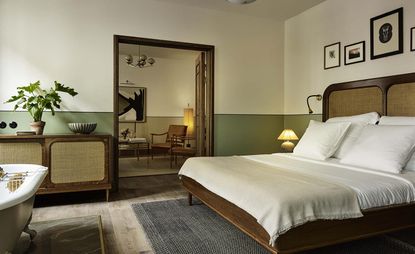 (Image credit: TBC)
Behind three townhouse façades, freshly coated in signature Copenhagen green, lies the latest manifestation of the Danish capital's prospering hotel scene.
Arguably the city's very first luxury boutique hotel, at the 54-room Sanders, guests take centre stage. Not surprising, considering its owner is Alexander Kølpin, the celebrated Danish ballet dancer. 'I have been telling stories all my life,' says Kølpin on Sanders' theatrical narrative-driven execution. 'From the first note to the closing of the curtains, it is all about the journey you take a spectator on. I think about the guest experience at Sander in a similar way.'
Located across the street from the Royal Danish Theatre, Kølpin's professional home since 1981, Sanders reanimates the property's former hotspot reputation for the city's artistic, creative and cultural elite. In The Living Room, a rare Carlo Scarpa Murano chandelier offers a grand welcome to guests checking in, while at Tata, classic cocktails are served up in a decadent milieu, featuring great amounts of untreated brass, drape curtains, grand mirrors and a hand-tiled floor.
At both Sanders Kitchen and Courtyard - the hotel's all-day Med-style dining spot - and Conservatory - a partially covered rooftop garden - the atmosphere is intimate and low-key. 'We blur the lines between a traditional boutique hotel and a residential setting,' says Kølpin. 'Real luxury lies in the interplay between guests and staff, offering care and community that resonate with those visiting us.'
Sanders eclectic mix of décor, merging the drama of grand theatres with the glamorous age of travel by injecting bits of old Danish colonial style, Parisian sophistication and English eccentricity, is masterminded by Pernille Lind and Richy Almond of London studio Lind + Almond. This style amalgamate comes into its own in the rooms, where bespoke wooden furniture, leather-upholstered armchairs, rattan cane-couches and brass fittings make for a comfy and stylish stay.
In collaboration with Dais Contemporary, Sanders has sourced and commissioned artwork by emerging artists, while leaving some empty wall space for pieces from yore. 'The signed photos of Mikhail Baryshnikov and Peter Martins [one of Denmark's leading danseurs of all times] will come back on the walls again', says Kølpin. 'It is full circle for me.'
INFORMATION
ADDRESS
Tordenskjoldsgade 15
VIEW GOOGLE MAPS (opens in new tab)