Stepping up design and technology in the punishing sport of Rally Raid
Rally raid – extreme, long-distance, off-road racing, on four wheels or two – leads to innovations that can inform our future vehicles. This rugged sport is even going electric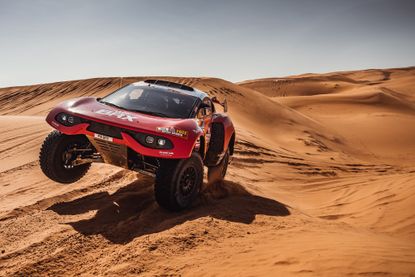 (Image credit: press)
Amid the roar of engines and anxious babble of the bivouacs, there is set to be a quieter story unfolding in the desert this year. Rally raid is pushing near-silent green vehicles to their limits and proving that with a change in attitude, even the world's toughest landscapes can be conquered through engineered biofuels and electric wonder cars.
We caught up with the professionals ahead of this year's Andalucia Rally to look at how the sport is pushing the limits of design and technology and is experiencing a turn towards a greener future.
Rally raid is the ploughing of cars, bikes, and trucks through long distances at great speeds, invariably against the backdrop of a dramatic landscape. The official FIA rally raid calendar began in January with the Dakar in Saudi Arabia and ends in Morocco, with stops in Abu Dhabi and Spain. Ongoing political uncertainty meant that the Kazakh leg of the race was cancelled in March.
These races see a variety of vehicles and competitors pushing their limits to achieve notoriety in the sport and to conquer landscapes that have historically proven very difficult for motor vehicles, though not, it must be said, for the many cultures which have lived in these places long before rally raid ever came along. Genghis Khan certainly had no problem crossing the steppe without a 13-litre engine.
At this year's Dakar Rally, all eyes were on the green credentials of sophisticated vehicles such as veteran driver Nani Roma's Prodrive Hunter T1, which runs on biofuel, and Audi's electric car, the RS Q e-tron, which aspired to become the first electric car to win the Dakar.
Rally raid is being dragged into the environmentally-aware Anthropocene by its 37in tyres. The Prodrive Hunter T1 boasts an 80 per cent reduction in greenhouse gas emissions while offering the equivalent performance of a vehicle powered by petrol. In contrast, when pushed hard, the Kamaz burns through 200 litres of diesel for every 100km travelled.
Ricky Brabec, the first American to win the Dakar Rally (in 2020), put in a solid performance on the Honda CRF450 rally bike at this year's event, taking seventh place overall after an error had him back at 22nd early on. The bike's liquid-cooled, single-cylinder engine and the fuel-injection system are developed for the variable weather conditions of rally raid. With 60 peak horsepower for fast, straight roads, the bike had to be fitted with a large 300mm disk brake to ensure agility. Its ability to carry 9.2 gallons of fuel meant the huge distances covered each day pose no problem for Brabec and his team.
It takes sophisticated adaptations for a vehicle to be able to handle the landscapes of rally raid, especially as the distances travelled are vast. In a class of its own, a new lightweight T4 SSV buggy has been pioneered by Aktau Motorsport. 'In Central Asia, we have rocks and stones, dunes, steppe, and fast roads,' say its Kazakh makers. 'Our buggy is designed for all of these types of terrain.'
Another contender each year is the Gaz Sadko truck. Winning the third stage of the Astrakhan 2020 rally brought this vehicle to the forefront of fans' imaginations. The 650km track is considered to be some of the toughest terrain in rally raid.
Perhaps we shouldn't put too much store in vehicle design though, as when it comes down to it, the experience of the competitors is what matters most.
There is another class of vehicle in rally raid that eclipses, at least in size, everything else on the track entirely. Nani Roma, who has competed in a staggering 26 Dakar Rally events in both a car and on a bike, knows exactly what it's like to sit precariously beneath a huge Kamaz truck on the starting line.
'I had the opportunity to test the Kamaz in 2019 with all of the team and it was amazing to drive,' says Roma. When this gigantic vehicle first showed up to rally raid events heads were turned, upwards mainly.
The limits are still being negotiated in the world of rally raid. Travelling from Saudi Arabia to Morocco via the Middle East's impressive backdrops, this year's calendar will lead to technical innovations developed out of the sheer necessity to tear through the tough stuff at great speed, and to urbane design informed by the desert landscape.
INFORMATION
The 2022 FIA World Rally-Raid Championship can be followed at FIA.com (opens in new tab)