Marc Newson on his electric hydrofoil collaboration with Fliteboard
The Fliteboard x Marc Newson eFoil promises a smooth surfing experience with cutting-edge materials and space-age design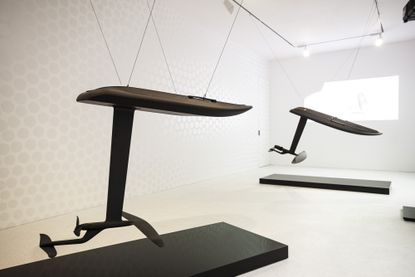 (Image credit: Liam Leslie)
Fliteboard is an Australian company that has revolutionised the art and practice of surfing. Founded in 2016 by David Trewern and based in Byron Bay, New South Wales, the company makes motorised hydrofoils. Trewern, a former kite-surfing world record holder, wanted to create a board that used the hydrofoil capabilities of a kite surf foil board without the need for any wind.
When pulled by a kite, a foil board lifts itself out the water, leaving just a winged hydrofoil beneath the surface, attached by a slender carbon-fibre arm. This drastically reduces the amount of drag on the board, increasing speed and manoeuvrability. Trewern's innovation was to add an electric motor to the hydrofoil, propelling the board forwards in order to generate lift.
One of the company's dedicated followers is the industrial designer Marc Newson. 'I'm a fan,' says Newson. 'I became aware of them about four years ago and started using one about three years ago. I then got friendly with David. He knew me and my work, especially the marine projects.'
For Trewern, Newson's interest sparked an excellent opportunity. 'Fliteboard combines many advanced technologies that culminate in a magical riding experience,' he says. 'Such a product deserves a poetic design approach at the pinnacle of art and science, and there is no one better to provide this than Marc – one of my long-time design heroes.'
Trewern invited Newson to collaborate. 'Being a consumer is a good thing,' the designer muses. 'It gives you a good insight into a product. It's happened before – I've liked a product enough to want to work on it.'
The work with Fliteboard posed more than a few challenges. 'It was an interesting one, because it's not just an intellectual interaction but a physical one,' Newson says. 'It was also an education I had to give myself. It helps to have done a bit of surfing, windsurfing, snowboarding, even riding a bike,' he continues, 'but in many ways [using a Fliteboard] is a very particular discipline – it was an advantage to have that muscle memory.'
Riding a Fliteboard is all about balance. 'Minute movements have a big impact,' Newson says. 'It's a bit like a unicycle, perhaps, in that you're balanced on a mast that is projecting up out of the water and you have a full 360-degrees of balance to deal with. Also, your eye level is 8ft or so out of the water, which feels quite daunting.'
The silence of the electric propulsion unit (on the flagship board you can swap between the Flite Jet system or the Flite Propeller) makes the experience calm and serene. 'It feels virtuous, not obnoxious like a JetSki,' Newson says. The designer's innovations, which resulted in the Fliteboard x Marc Newson shown here, were developed in close collaboration with Trewern and his team.
For a start, the new boards were narrowed, improving performance. Newson also redesigned the removable Flitecell batteries, shaping new orange anodized titanium designs. In addition, there are detachable front wings to change the ride characteristics, as well as a brand new Flite Controller, the vital wireless connection that gives the rider control over the board. 'It's a curious interface,' Newson says. 'There has to be a very high degree of legibility, but it's also very intuitive, because for the most part, you're really not looking at it – it's an extension of your hand.'
Operated by a trigger, the controller shows speed and battery life, along with wave data, on a circular screen. Newson admits that this gives the controller a 'slightly analogue flavour', but that also aligns with his fascination with all things nautical. As well as being more ergonomically efficient, the controller has to be fully marine grade – water- and impact-resistant.
The Fliteboard x Marc Newson eFoil incorporates other innovations. 'In collaboration with Fliteboard, we came up with a carbon-fibre mast that's much more streamlined,' says Newson, 'both in terms of function and manufacturing.' The inherent flexibility of swappable propulsion methods and different wing attachments allows for different riding styles; in waves, you need power to get to the wave, before using momentum to ride it, whereas on calm seas, you need power all the time.
For Newson, one of the driving forces behind the project was the current advanced state of composite technology and manufacturing. 'One could liken this to the Formula 1 version of the eFoil,' he continues. 'It's almost entirely made of carbon fibre, which enables the primary components to be moulded as a single entity.' The battery itself is contained within the board, easily removable with flush-mounted silicon handles.
Noting that the idea of the hydrofoil is a 'relatively old technology, with not much changed since the 1960s', the designer thinks the field is still open for exploration. 'You can't just jump on board a Fliteboard,' Newson notes. 'It takes a couple of days to get the hang of it. I'd like to see a recumbent design, perhaps. There's definitely a lot more that can be done.'
Fliteboard x Marc Newson available in two sizes, Fliteboard 60 (4ft 6in), and Fliteboard 85 (5ft 4in), EU.Fliteboard.com
Receive our daily digest of inspiration, escapism and design stories from around the world direct to your inbox
Jonathan Bell has written for Wallpaper* magazine since 1999, covering everything from architecture and transport design to books, tech and graphic design. He is now the magazine's Transport and Technology Editor. Jonathan has written and edited 15 books, including Concept Car Design, 21st Century House, and The New Modern House. He is also the host of Wallpaper's first podcast.