Breakfast bottle: Coffiest is the liquid nutrition Silicon Valley is craving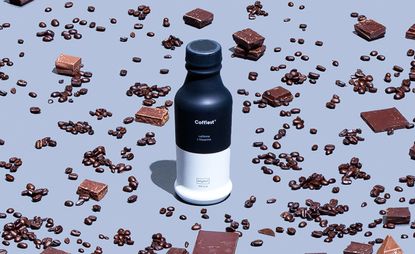 (Image credit: TBC)
Originally meeting while working on a pair of start-ups under the same roof in Sunnyvale, California, Rob Rhinehart, Matt Cauble, John Coogan and David Renteln's initial 30-day experiment in food replacement was an instant hit among Silicon Valley insiders.

Not only did their story go viral – leading to a crowdfunding campaign on Tilt – but as of 2016 and with over $3 million backing, theirs has become the highest funded food-related crowdfunding project ever accomplished. In early 2014, their ready-to-drink meal Soylent was launched proper – named in homage to Harry Harrison's 1966 science fiction novel Make Room! Make Room!. The quartet was clearly on a mission – to use science, technology and enterprise as tools to improve the quality and accessibility of nourishing food replacements. Soylent was engineered to provide the protein, carbohydrates, lipids (found in bioengineered algae) and micronutrients that a body needs to thrive, all created efficiently in bioreactors, rather than on farmland, and thus requiring less resources than traditional agriculture.

Soylent's recent launch, Coffiest, is an intriguing blend of caffeine, vitamins, minerals, fats, carbohydrates and protein, allowing avid Soylent fans to start their day with breakfast in a bottle. The formula comes with 150 mg of caffeine (per bottle) and, made using real coffee, it boasts a rich coffee flavour and creaminess, the latter provided by soy protein isolate, while algal oil provides energy. With 75 mg of L-Theanine, a green tea ingredient said to eliminate the jittery side effects of caffeine, Coffiest 'promotes relaxation without drowsiness and even boosts cognitive performance', declare the founders.

Like its predecessors, it's created with the nutritional benefits of a balanced meal in mind – containing 20 per cent of your day's vitamins and minerals, and a macronutrient profile of 47 per cent lipids, 33 per cent calories from carbohydrates and 20 per cent protein. The formula is packaged in a sleek monochrome bottle, designed by John Zelek and Ryder Ripps.

Soylent hasn't stopped there. The company is now branching out beyond liquid nutrition with the addition of its new salted-caramel-flavoured meal bar, providing an eighth of an average adult's daily dietary requirements. Perhaps Soylent is changing the way we consume food, as its cult following is now drinking their breakfast and snacking for lunch.
INFORMATION
For more information, visit the Soylent website (opens in new tab)