Pop icon: the Coca Cola bottle celebrates its 100th birthday with a year-long campaign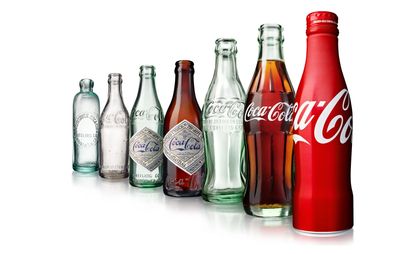 (Image credit: TBC)
The brief for designing the original Coca-Cola (opens in new tab) bottle was to create something 'so distinctive that it could be recognised by touch alone and so unique that it could be identified when shattered on the ground.' First brought to life by Indiana-based Root Glass Company in 1915, it's safe to say that the Coca-Cola bottle has succeeded in becoming one of the most instantly recognisable brand designs of the past century. On average, the company serves up a whopping 1.9 billion drinks a day in over 200 countries.

To mark its 100-year milestone, the company is celebrating with a year-long campaign that includes a book, new advertising, a music anthem and a series of international art exhibits, showcasing its role in popular culture all over the world.

One of the campaign's highlights: 'The Coca-Cola Bottle: An American Icon at 100' exhibition, which is on now at the High Museum of Art in Atlanta, is displaying two original Andy Warhol coke bottle paintings for the first time, along with other bottle-inspired artworks, photographs, and previously unseen prototypes and sketches.

For those who miss out on High Museum's exhibition, Coca-Cola has also organised a pop-up art tour, which is currently travelling 62 000 miles across 14 countries. The exhibition has been designed with the all of the senses in mind, so visitors will be able to see, hear and feel the Coca-Cola-bottle's century long journey.