Maemil (Buckwheat): where to eat it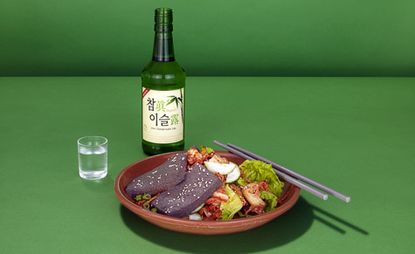 (Image credit: press)
Wallpaper* Newsletter
Receive our daily digest of inspiration, escapism and design stories from around the world direct to your inbox
Thank you for signing up to Wallpaper. You will receive a verification email shortly.
There was a problem. Please refresh the page and try again.
Few foods can claim to be as entrenched in a country's culture as Korean buckwheat. Known indigenously as maemil, buckwheat was traditionally used in ancestor worship rites during Korea's Confucian times.
These days, this low-calorie, gluten-free alternative to rice has become a popular staple. The grain, which can be crushed to make hot and cold noodles, buckwheat jellies and stuffed crêpes, is believed to boost metabolism and lower cholesterol due to its richness in magnesium and rutin. Although similar to Japanese soba, maemil dough has a denser consistency and has a more subtle taste, making it the perfect foil to crunchy, pickled vegetables, and salty or spicy sauces.
While the resurgence of healthy Korean cuisine has led to the mushrooming of maemil restaurants in and around Seoul, the province of Lee's hometown of Bongpyeong remains Korea's maemil capital. The town even hosts an autumn literary and culinary festival, which honors both the author and the humble buckwheat seed.
Restaurants
Jinjja Maemilmuk Jip
Hosan-dong, Dalseo-gu, Daegu
tel: 82 53 583-8712


This restaurant on the outskirts Daegu in Korea's southeast, specializes in maemilmuk, a firm jelly made of boiled buckwheat starch. Once said to be irresistible to the goblins of Korean folklore, the wave-cut rectangles are mixed with fresh lettuce, kimchi, sesame seeds, sesame oil and soy sauce and served as a salad, or side dish with soju.
Migayoun
Bongpyeong, Pyeongchang County, Gangwon Province
tel: 82 33-335 8805


Restaurants serving buckwheat dishes are a dime a dozen in its spiritual home of Bongpyeong. Amongst the many hidden gems is Migayoun, an eatery specializing in sesame-scented maemil noodles, pancakes and jeonbyeong, a thin buckwheat crêpe stuffed with pork, kimchi, radishes, scallions, garlic and tofu.
Maemil Ggotpilmuryeop
Tongui-dong, Jongno-gu, Seoul
tel: 82 2 734 0367


Despite being located beside a 14th century palace, it's not easy to find this tiny supermarket/café; it's partially concealed by potted buckwheat plants. The persistent will be well rewarded with nutty knife-cut noodles and crispy buckwheat pancakes. Seasoned with coarse salt, mustard or a jalapeno-vinegar sauce, the seven menu items are best paired with one of five rice and sweet potato wines.
Receive our daily digest of inspiration, escapism and design stories from around the world direct to your inbox