Fin-land: Haruka Misawa's alluring aquariums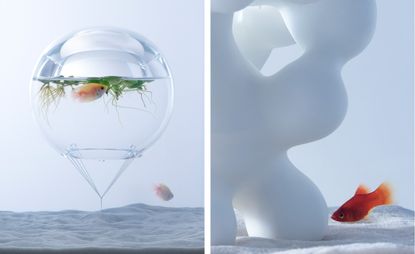 (Image credit: Masayuki Hayashi)
Why should humans have a monopoly on refinement? Enter: the contemporary aquarium. Haruka Misawa, formerly of nendo, takes us on a trip to fin-land with these stunning prototypes.

'I've conducted countless small experiments, seeking to discover beyond just mere visual effects,' Misawa writes of the design process. In one version, a submerged beaker becomes a tank within a tank, while the branched geometry of another calls to mind Sou Fujimoto's Naoshima Pavilion.

Misawa has great respect for the life aquatic, using inorganic materials to mimic the organic– as well as anticipating feedback from the tanks' tenants...with apparent success.

'I will never forget the nervousness and excitement that I felt when I was putting fish and shrimps in the tank for the first time after the piece was completed,' Misawa explains, 'After a while, the shrimps began resting on the step-like branch structures, and followed by circling around the branches and floating up and down. When I saw this, I began to imagine that 'they are in complete understanding of the purpose of my design.''

Smart fish, those.