Light-works: District Vision's glasses brighten any sporting situation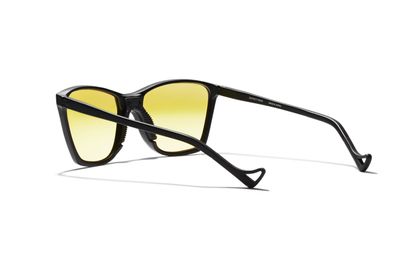 (Image credit: Max Vallot and Tom Daly)
It takes two mind-and-body oriented designers to solve a sporting eyewear 'problem'. Max Vallot (ex-Saint Laurent) and Tom Daly (ex-Acne) are the brainy, elegant men behind District Vision, a new Tribeca-based eyewear studio. Their biggest motivation was to reconcile wellness, active lifestyles, high tech and fashion – something they've successfully done with the Keichii performance sunglasses. The model – their very first – has been an instant hit at the brand's illustrious stockists, which include Dover Street Market, Colette, and The Webster, among others.

The secret: behind a minimal, almost simplistic design is some haut-performance engineering – though you'll have to test them to fully assess the comfort value added to your workout. Developed over two years in Japan, the models are featherweight (23g), comprising a beta titanium core with a sweat resistant coating, and featuring killer details like adjustable tips to hold them firmly in place behind your ears and discrete anti-sliding pads on the nose.

Three shatterproof polycarbonate lenses will suit any outdoor situation: 'Sports Yellow' is a high light transmission lens, perfect for brightening early mornings or dusky evenings; 'Water Gray' is a polarising lens devised for aquatic pursuits (factoring a liquid resistant oleophobic coating); while 'Sky G15' will sun-proof mid-day tennis matches by only allowing 15 per cent of light to permeate your vision.

The superlative build quality doesn't end there: even a handwoven strap, crafted in a Japanese kimono factory, feels precious to the touch.
INFORMATION
District Vision glasses, from $299. For more information, visit District Vision's website (opens in new tab)