Buck.Studio designs a muted new outpost for Mo61 Perfume Lab in Warsaw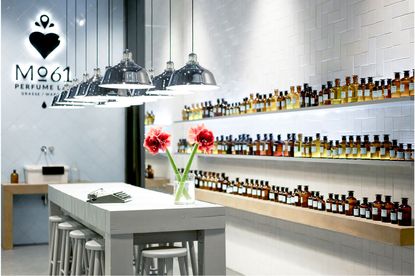 (Image credit: TBC)
The Wroclaw-based Buck.Studio has designed a third property for perfumers Mo61 in Warsaw's Galeria Mokotow complex, transforming a tiny 21 sq m unit into a svelte, minimal space perfect for sampling the brand's finely crafted scents.

Founded by Monika Zagajska and Michal Jeger, the business was conceived when it was discovered the latter was a natural 'nose' during a trip to Tel Aviv. While he became a certified perfumer in Grasse, France – the industry's spiritual home – Monika procured their first store on Mokotowska Street, in Warsaw's independent shopping district, where they quickly established a reputation for unique, bespoke perfumes evoking memory, mood and season.

While the first two stores in Warsaw and Krakow were designed in-house, the duo charged architects Dominika and Paweł Buck with their third, stressing a desire to keep the original's authenticity while standardising the brand's in-store image for potential future openings. 'We're really happy that we managed to keep the original atmosphere of the first store', they explain. 'It just looks like a younger brother'.

The studio's design takes the DNA of the original store's stripped-down aesthetic and gives it a glossy makeover. 'We decided to keep the limited colour palette of blue, white and grey, and focus on the contrast between the simplicity of the materials and vintage, nostalgic details', she continues. Thus, textures of sleek polished metal and glass act as a foil to the brand's recognisable brown glass bottles and elegant retro details – such as a rough wooden workshop table and a vintage typewriter – used to personalise each vessel.

While known for their intimate, tailored perfumes aimed at evoking or even recreating memories, they're equally proud of their ready-to-wear creations: MO61 Cologne, touted as their new flagship scent, recreates the olfactory bliss of citrus and basil with herbaceous patchouli; while we love the headiness of pleasant acidity of MO61 Cassis, a blend of sour blackcurrant, sea salt and pink pepper.
INFORMATION
For more information, visit Mo61's website
ADDRESS
Mo61
Wołoska 12
02–675 Warsaw