Bertone classic concept car auction, Lake Como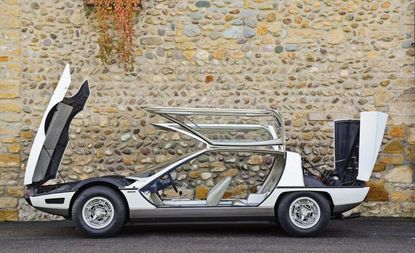 (Image credit: Lamborghini )
Six of the coolest concept cars ever made - all the mark of legendary Italian design house Bertone - go to auction this month, by order of the Italian bankruptcy court dealing with the assets of the collapsed Bertone Group. The design arm of the business, Stile Bertone, is still very much alive, but not in a position to buy back every exhibit from its fantastic in house museum (see W* 82).
And so, automotive experts RM Auctions will put them under the hammer on Saturday May 21 at Villa Erba, to coincide with the Concorso d'Eleganza Villa d'Este weekend.
The historic annual event began as far back as 1929, but was only brought back to life in the 1990s through the patronage of BMW. In a short time it has become one of the world's most exclusive classic car shows, with a fittingly beautiful setting on the shores of Lake Como.
Many of the greatest car brands in the world will have vehicles featured - the new Aston Martin Zagato is set to be globally unveiled - and the the Bertone concept sale will certainly make this year a memorable one. The lots include three amazing Lamborghinis - the Marzal, Bravo and Athon - as well as the ultra low-slung 1970 Lancia HF Zero.
Cited by many top car designers as their favourite concept of all time, the Lancia Stratos HF was a wedge-shaped sensation when it appeared at the 52 Turin Show in 1970. Just over 3.5m long and only 84cm high, drivers have to climb in via a single front-hinged windscreen/door and lie well back to fit. This is abstract car sculpture of the highest order and, like the Marzal, another Gandini creation which eventually spurred Lancia to commission the super successful Stratos rally car of the mid-1970s.
A scattering of geometric vents punctuates the front and rear of this concept. First shown at the 1974 Turin Motor Show it was yet another Gandini design, most notable for the hidden pillars supporting the roof in order to create a visor-like appearance and dramatically different wheel arches front and back.
The futuristic Lancia Sibilo epitomised the futurism of the late 1970s. Stand-out features include steering wheel-mounted controls, vintage digital lettering and an exterior where the glass - complete with driver's porthole - seems to merge with the bodywork.
Banishing curves almost completely, this open-top study in angular and rational lines based on Lamborghini underpinnings was designed by Marc Deschamps and shown at the 1980 Turin Motor Show. Less historically relevant than the Stratos, Marzal and Testudo, it is still expected to fetch up to 220,000 euros.
Guy Bird is a London-based writer, editor and consultant specialising in cars and car design, but also covers aviation, architecture, street art, sneakers and music. His journalistic experience spans more than 25 years in the UK and global industry. See more at www.guybird.com