Andrea natural air purification system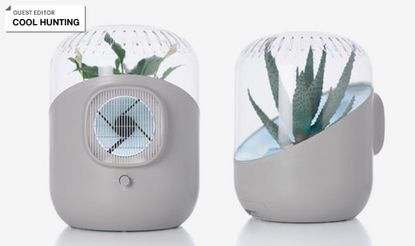 (Image credit: Designer Mathieu Lehanneur and Harvard professor David Edwards)
Andrea, a natural air purification system, looks like a futuristic prop in Steven Spielberg's A.I., not something you'll soon be able to purchase online for the cost of an iPod Touch.
Created by industrial designer Mathieu Lehanneur and Harvard professor David Edwards in 2007, Andrea was one of several concepts by the designer to be featured in MoMA's critically-acclaimed exhibition, Design and the Elastic Mind. It also earned the distinction of Invention of the Year in Popular Science in 2008.
Essentially, Andrea exploits and hastens the process of plant filtration with a whisper-quiet fan that draws air into the vessel, propels it through the leaves and root system and out through the water into the room.
According to the manufacturer, common household plants—Peace Lilies, Red-Edged Dragon Trees, Spider Plants and Aloe Vera—make for the best performers.
With an effective range of roughly 350 square feet, Andrea works for most any room in the home or office where the threat of stagnant air or noxious gases are a concern. Thanks to its altogether pleasing form and a base that mimics ceramic pottery, this 21st century device manages to look quite traditional—a bonus for those averse to the gadget aesthetics of Sharper Image products.
Andrea will reach the U.S. market this October with a suggested retail price of $200. It will be available through online retailers Amazon, Hammacher Schlemmer and Frontgate.
Brian Fichtner