A close shave: Thomas Clipper's new grooming sets are in strong demand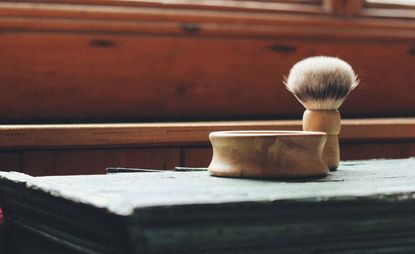 (Image credit: press)
Matt Brown, founder of new men's grooming company Thomas Clipper (opens in new tab), is seemingly on a mission to achieve the world's greatest shave. With two new collections launched this month, he may well have found his answer. The simple solution is found in using a high quality single-blade razor, moving away from the trend of plastic multi-blade razors that currently line our shelves (but also our bins).

The new Thomas Clipper collections include many nods to the origins of the materials used. The wooden shaving bowl is carved with coordinates pinpointing the exact location of the tree it came from (Boughton Estate in Northamptonshire, England for those who don't have their GPS units on them). Having fallen this year, a 305-year-old giant will be used to make the 'Heritage Shaving Set' until its timber runs out, at which point production of the collection will cease as well.

The 'Purist Razor Set' contains frankincense scented shaving oil, a hot flannel treatment and a year's supply of 100 blades. The 'Heritage Shaving Set' includes handmade bowls and brushes and natural juniper scented shaving soap. There is a strong emphasis on natural materials and local craftsmanship in this range – but what is really impressive about this is the level of support the sets have received even prior to their release. Thomas Clipper has already gained a loyal following after just one year in the business, with its most recent Kickstarter campaign funded within just two hours.

These new sets are making their shop-floor debut and are likely to feel very much at home in The Dandy Lab, a sophisticated pop-up retail space in Shoreditch, London. If you're ready to bid farewell to the beard, Thomas Clipper is set to take the clean-shaven world by storm (without leaving a trail of fallen trees in its wake).
INFORMATION
'Purist Razor Sets', £99–159; 'Heritage Shaving Sets', £149. For more information and ordering, visit Thomas Clipper (opens in new tab). Also available at The Dandy Lab (opens in new tab)
ADDRESS
The Dandy Lab
73 Brushfield Street
Old Spitalfields Market
London, E1 6AA
VIEW GOOGLE MAPS (opens in new tab)