Fight club: Studio Xoo brings design clout to a London boutique boxing gym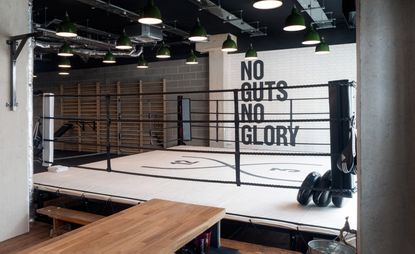 (Image credit: press)
Chin down, guard up – there's a new contender in town. Recently opened in Aldgate, 12x3 is the latest boxing gym to step into London's growing boutique fitness ring. The concept is simple: a dozen three-minute-long rounds encompass everything from stamina to speed and footwork. Friendly competitiveness is fostered in the compact class sizes, limited to one- and four-on-one training.

This small but perfectly formed boxing club is more than just good looks, thanks to its enviable sporting pedigree. 12x3 founders Darren Barker and Ryan Pickard first met at the East End's storied Repton Boxing Club – Barker's a world champion, while Pickard has captained for Repton and England. At 12x3, the pair have rallied a formidable roster of coaches, including former world champion Jason Mathews, and GB boxers Lisa Moore and Shelly Sweeney.
Inside, poured concrete, white metro tiles, and wood flooring lend the space an appealingly industrial character. 'We wanted to create a studio that had the capability and specialism of dealing all of those touch-points – and that's what we think we are on the way to achieving with this project for 12x3,' Enting explains.

Pickard adds: 'Studio Xoo created a brand that leverages the boxing ephemera of the 1960s and 70s but with a contemporary twist,' explains Pickard. 'The X in the logo is rendered like an hourglass, referencing the time-based system at the heart of our brand experience.' Needless to say, it's a winning combination.
INFORMATION
For more information, visit the 12x3 website (opens in new tab)
ADDRESS
76 Alie Street
London E1 8PZ
VIEW GOOGLE MAPS (opens in new tab)