Editor's pick: last chance to see the MET's mesmerising array of ancient American gold
Boasting legendary New York sculptor and jeweller David Yurman as its partner, 'Golden Kingdoms: Luxury and Legacy in the Ancient Americas' at the New York MET adds to a growing appreciation of precious metalwork beyond decorative impact. The power of these exquisitely crafted precious materials to exalt the wearer and onlooker beyond the everyday was more significant than inherent value. A glorious paean to ancient goldworking techniques, this week presents a last chance to see the exhibition. Usually, you'd have to travel to Colombia to view the jaw-dropping additions from Bogotá's famed Museo del Oro, so we think that the sizeable collection on show here is well worth bringing to your attention. The exhibition is on view at The Met Fifth Avenue, Gallery 199 until 28 May. We've pinpointed some of our favourite pieces: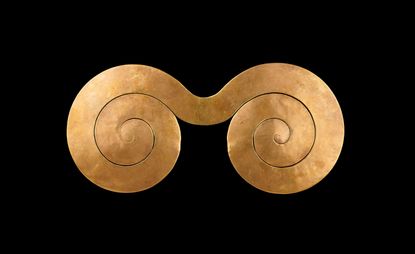 (Image credit: Clark M. Rodríguez)
'At the beginning of our relationship, my wife Sybil and I would frequently visit the Museum for creative inspiration. My fascination with ancient jewellery became the catalyst to make historical forms contemporary.' – David Yurman
The exhibition presents spectacular finds from recent archaeological excavations – crowns, pectorals, pendants, necklaces, ear and nose ornaments, labrets, masks, mantles, goblets, vases, stelas, bells, painted books, and more – that have rarely, if ever, left their country of origin.
'In the ancient Americas, precious objects were designed to provoke a powerful response – perceptually, sensually, and conceptually. This speaks to me as a designer and an artist.' – David Yurman
This chest ornament, one of the largest and most ornate cast-gold works known from the ancient Americas, depicts a man with avian attributes. Two small lizard-like creatures, shown in profile, perch on the figure's wings. The wax model was carefully incised to show details such as the texture of the creatures' skin and feet.
The thin spoon with a finial, inserted between the feline's shoulder blades, would have been used to retrieve powdered lime. Works were relatively small in scale, which meant they could be transported over vast distances as royal gifts or sacred offerings.
Receive our daily digest of inspiration, escapism and design stories from around the world direct to your inbox
Having worked as a journalist and editor for titles such as British Vogue, Vanity Fair and the Daily Telegraph, Caragh McKay became Wallpaper Watches & Jewellery Director in 2012, before branching out a few years later as an independent creative director in the luxury arena.