Outdoor furniture that puts a spin on garden design
Step into the Wallpaper* garden to find an architectural space sculpted by multifunctional outdoor furniture. From rattan furniture with a twist to relaxing garden design and outdoor lighting, our backyard offers moments of zen and vibrant surprises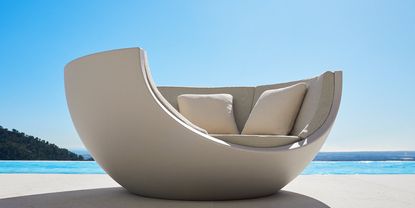 (Image credit: press)
Name: Kida hanging lounger
Designer: Stephen Burks for Dedon
Price: on request
When developing his latest design for Dedon, Stephen Burks sought to reinvent the swing. Burks was inspired by the company's master weavers in the Philippines, and with their craft in mind, he developed a design that is embracing but doesn't feel too enclosed. A colourful play on symmetry and geometry, the 'Kida' swing is an inviting piece of garden furniture that evokes relaxing summer evenings and calming lounging. Says Burks, 'The magic of being in the factory and challenging everybody to find unfamiliar ways of doing things that give a fresh and uniquely Dedon feeling to the collection is always my mission.'
Name: Allaperto collection
Designer: Matteo Thun and Antonio Rodriguez for Ethimo
Price: on request
Combining rattan and teak, Matteo Thun and Antonio Rodriguez have created a series of multifunctional outdoor furniture pieces for Ethimo, including lounge elements such as chairs and swings, for the garden and beyond. The 100 per cent recyclable rattan rope is arranged in a herringbone weave and combined with the teak in geometric silhouettes.
Name: Ent plant stands
Designer/Brand: Jan & Lara for XLBoom, available from Wallpaper*STORE
Price: From £143
A sleek addition to our balcony, the 'Ent' plant stand by Belgian designer couple Jan & Lara brings plants into the spotlight. Comprising a powder-coated upper plant pot and a lower stand, which can be utilised to host another plant or small items, 'Ent' is defined by its simplistic, minimal style. A combination of circular and oval shapes juxtaposed with vertical lines, the uncomplicated black iron structure will complement the design of any outdoors space.
Name: Buit sofa
Designer/Brand: Mayice Studio, for Gandia Blasco
Price: on request
Made of lightweight but strong aluminium mesh, Mayice Studio's new collection for Spanish brand Gandia Blasco is woven with a cushioned textile especially created for the outdoors by Kvadrat Febrik. The combination makes for a comfortable as well as visually bold design. The garden sofa is available in a range of colours, from white and concrete grey to orange and anthracite. Like many of Madrid-based Mayice Studio's designs, 'Buit' has an architectural aesthetic.
Name: Pillow lanterns
Designer/Brand: Gordon Guillaumier, for Roda
Price: from €1,090 each
Outdoor specialist Roda has added its first lighting product to its accessories range. A perfect illumination for your garden, the 'Pillow' lantern designed by Gordon Guillaumier is beautifully refined and simple. It comprises a teak base and a subtle mesh enclosure, made from Canatex, a mix of hemp and polyester. With a rechargeable battery and a built-in handle, the lantern is portable, and can hang or stand alone. Available in 50cm and 70cm heights, it has an adjustable LED light, controlled by touch or an app.
Name: Ulm daybed
Designer/Brand: Ramón Esteve, for Vondom
Price: £9,200
A garden cocoon by Spanish architect and interior designer Ramón Esteve for outdoor furniture company Vondom, 'Ulm Moon' really catches the eye. This splendid sphere is able to rotate on its own axis, offering all-round relaxation and an unbeatable outdoor escape. It is composed of two distinct halves: the lower part is made of rotational moulded polyethylene, while the upper part, in polypropylene cord braid, filters gentle light and air into the pod. An otherwordly piece to enhance any garden space.
Name: Giotto table
Designer/Brand: Massimo Castagna, for Exteta
Price: €29,840
This monumental dining table brings both gravitas and joy to our outdoor dining. Working with Italian furniture company Exteta, architect and designer Massimo Castagna created the piece entirely in marble. The 2m-diameter table top, tapered at its circumference, is supported by three monolithic legs that add to the sculptural appeal. 'Giotto' is available in various marbles; here, Arabescato Orobico Red provides a highly contrasted finish.
Name: Jour water jug
Designer/Brand: Inga Sempé for Nude, available from WallpaperSTORE*
Price: £82

Designed by Inga Sempé for Nude, the 'Jour' water jug is inspired by traditional French glassware and as such presents a streamlined aesthetic that that pays homage to French heritage design. An eye-catching composition of lines and volumes offers a contemporary edge while lead-free crystal glass ensures the handmade jug pairs flawlessly with other pieces from the collection.
Name: Boleto lamps
Designer/Brand: Emiliana Martinelli for Martinelli Luce
Price: on request
These LED bollard lamps are a great example of what Italian lighting expert Martinelli Luce does so well. The functional and rationally designed outdoor lighting posts are characterised by a minimal mushroom-like silhouette (also giving the name to the lamps, as a nod to the Boletus mushrooms), and made of Corten-coated aluminium. They are designed by Emiliana Martinelli, who is now heading the company founded by her father in the 1950s, working with international designers as well as creating some of its more successful pieces.
Name: Lita armchair
Designer/Brand: Paola Navone for Slide, available from WallpaperSTORE*
Price: £320
Designed by Italian luminary Paola Navone for Slide, the 'Lita' collection is a series of playful and contemporary furniture pieces defined by exaggerated proportions, glass accents and peculiar legs. Cut from polyethylene, this low 'Lita' armchair presents four oversized legs that are at once mesmerising to look at and the root of the chair's sturdy balance, while a low, expansive and curved seat offers comfort and relaxation in big doses
Name: Spark Grills
Designer/Brand: Spark
Price: $799
For anyone looking to make the most of their outdoor space, a new design savvy charcoal grill, Spark Grills, cuts a compelling figure. Inspired by midcentury modern furniture, the elegant grill pairs a slender frame with a rounded body that also happens to be backed by revolutionary technology. Utilising patented wood and charcoal briqs, which have been developed by food and biomass scientists in Boulder, Colorado where the company is based, Spark delivers all the flavor of cooking with natural wood and charcoal at the push of an ignition button.
The grill fires up in seconds, pre-heats in minutes and requires no lighter fluid. An accompanying mobile app enables users to be notified when the grill has reached its temperature, alerted to when food is cooked and ready and can also be connected to food probes for the more technically adept. Available in four matte shades of navy, charcoal, sage and cream, it's also easy on the eye.
Name: O-Collection watering can
Designer/Brand: Studio Segers for XLBoom, available from WallpaperSTORE*
Price: $53
A collaborative project between Studio Segers and XLBoom, the 'O-Collection' presents a series of objects that combine contemporary aesthetics with high functionality. As such, this iron watering can has a simple, minimalist quality thanks to its clean elegant lines and a absence of adornment. Suited to both indoor and outdoor use, the can features an elongated spout and an oversized handle — two components that bolster the item's ease of use
Name: Neil Twist armchair
Designer/Brand: Jean Marie Massaud for MDF Italia
Price: on request
In 2018, Jean-Marie Massaud first conceived the Neil chair for MDF Italia, featuring a comfortable slanted seat and contemporary sleek silhouette. Now, the French designer is back at it, working once again with the Italian furniture company on a new iteration of the piece that can sit in your outdoor space. As the name suggests, the Neil Twist is made of a manually woven, twisted rope arranged on a cross-stitch pattern, available in a colour palette that ranges from bright green and orange to a series of grey tones. The bronze structure is formed by two interlocking parts, enhancing the impactful design's simplicity
Name: Half Dome floor lamp
Designer/Brand: Naoto Fukasawa for Kettal
Price: from €1,395

Spanish outdoor specialist Kettal has been in the business for more than 50 years and can be relied on to anticipate what our backyard needs next. In this case, it's more moonlight, courtesy of Japanese designer Naoto Fukasawa and his soft-edged minimalism. Evoking the moon both in shape and in the glow it casts, the 'Half Dome' floor lamp seems suspended in space, thanks to its narrow, seamless stem. Available in a whopping 34 colours and two different bases, Fukasawa's slick lunar homage makes the ideal post-dusk outdoor accessory. The sun may have set, but you'll always have the moon.
Name: Concrete round pot
Designer/brand: Marie Michielssen for Serax, available from WallpaperSTORE*
Price: £45

Designed by Marie Michielssen for Belgian brand Serax, this pot is representative of the simplicity for which the designer is known. Honed from red-coloured concrete, the simple and unassuming vessel is intended to host plants, with the inclusion of handles on each side ensuring practicality. The piece is taken from a wider collection of concrete pieces designed by Michielssen, a long-time Serax collaborator
Name: Span bench
Designer/brand: John Pawson for Salvatori
Price: £9, 400

Master of minimalism John Pawson uses his subtle style to create a highly dynamic collection for Salvatori. In a rich mix of Bianco Carrara marble and sandblasted Avana, this monolithic bench is a statement outdoor addition that he describes 'depends on clarity of line, form and junction'
Name: Aquiloni table
Designer/brand: Derek Castiglioni
Price: On request

Castiglioni specialises in outdoor design following his family's background in the landscape and planting business. He melds this with his studies in architecture to produce these playful coffee tables that join together like a puzzle to make one larger table. The mix-and-match quality of the triangular tables allows for a magnitude of geometric garden sets for summer soirées
Name: Sienna standing bowl
Designer/brand: Fort Standard, available from WallpaperSTORE*
Price: £85

A centrepiece, a vessel, a sculpture — Fort Standard's large standing bowl offers many uses. Whether used as a fruit bowl or as a focal point for outdoor dining tables, the powder coated aluminium bowl makes a huge impression with its three architecturally-inspired planar legs and textured sienna surface
Name: Albisola
Designer/brand: Büro Famos for Paola Zani
Price: on request

Offering a simple and elegant addition to the outdoor space is this low table, seating and plant pot hybrid by German design duo Büro Famos. Made for Italian Brand Paola Zani, the sleek powder-coated steel structure is adaptable with the changing botanicals chosen to live in its pleasingly circular silhouette
Name: Herringbone Bud vase
Designer/brand: Phil Cuttance, available from WallpaperSTORE*
Price: €44

An impressive demonstration of the limitless potential of handicrafts, Phil Cuttance's 'Herringbone' collection presents a series of objects featuring a herringbone pattern so intricate that it could be assumed to have been created on a computer. In actual fact, the pattern that adorns the surface of this cylindrical white jesmonite vase is entirely created by hand and is the defining feature of this decorative piece, which is ideal for small arrangements or single stems
Name: Quadrado
Designer/brand: Marcio Kogan For Minotti
Price: on request

The Brazilian architect was inspired by Japanese Metabolist architecture of the 1950-60s for a multifunctional modular system. Kogan's design is a warm addition to the outdoor set with its frame incorporating a magnitude of textures from the backrest in woven fibre to the grid effect on heavy wooden base. The organic palette also allows it to blend with the natural tones of the great outdoors
Name: Terra marble table
Designer/brand: Simon Legald, for Normann Copenhagen
Price: £249

Simon Legald has given southern European materials a robust modern twist with this Terrazzo table. Titled 'Terra', the pastel hued pieces have an exclusive quality through each Terrazzo sheet being unique in its naturally developed patterns. Produced for Danish brand Normann Copenhagen, the minimalist models also have whimsically twisted legs that contrast the flat, lacquered top
Receive our daily digest of inspiration, escapism and design stories from around the world direct to your inbox
Rosa Bertoli was born in Udine, Italy, and now lives in London. Since 2014, she has been the Design Editor of Wallpaper*, where she oversees design content for the print and online editions, as well as special editorial projects. Through her role at Wallpaper*, she has written extensively about all areas of design. Rosa has been speaker and moderator for various design talks and conferences including London Craft Week, Maison & Objet, The Italian Cultural Institute (London), Clippings, Zaha Hadid Design, Kartell and Frieze Art Fair. Rosa has been on judging panels for the Chart Architecture Award, the Dutch Design Awards and the DesignGuild Marks. She has written for numerous English and Italian language publications, and worked as a content and communication consultant for fashion and design brands.