Solid foundations: the Yves Saint Laurent museum opens in Marrakech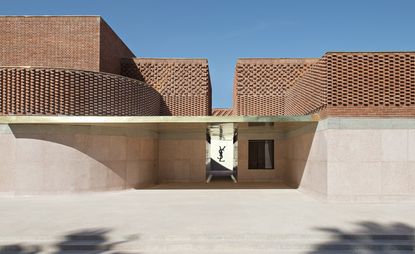 (Image credit: © Fondation Jardin Majorelle, Marrakech. Photography: Nicolas Mathéus)
Wrapped with terracotta brick and earthen-coloured terrazzo, the new and much-anticipated Yves Saint Laurent museum in Marrakech melds effortlessly into its ochre surrounds. Its understated façade, with its blend of swooping curves and straight lines, is a fitting tribute to the elegance of the late designer's couture creations. Upon its opening tomorrow, the museum is set to become the jewel in the crown of the French couturier's Moroccan legacy, which also includes the neighbouring 12 acre Jardin Majorelle, and the Berber Museum, which opened in 2011.

The Jardin Majorelle is already one of the most visited tourist sites in Morocco: 800,000 visited last year and 9,000,000 are expected to have passed through the gates by the end of 2017. Opened to the public in 1947 by Jacques Majorelle, the late Yves Saint Laurent and Pierre Bergé fell in love with the Jardin during their first trip to Marrakech in the sixties. When they realised it was at risk of closure in the 80s, Bergé and Saint Laurent bought and restored it. After Yves died, Bergé donated the Jardin Majorelle and the Villa Oasis to their foundation in Paris. Quito Fierro, the garden's public relations director, says that visiting numbers have dramatically increased in the past decade to the point where a timed entry system will have to be introduced.

In that time period, the city has seen the arrival of five-star destinations such as the Royal Mansour – a jaw-droppingly opulent medina – one equipped with private riads and a lobby that has to be seen to be believed. Also drawing in the well-heeled crowds is Sir Richard Branson's captivating Moroccan hideout, Kasbah Tamadot. Nestled in the Atlas Mountains, just an hour's drive away from the heart of the city, the Kasbah serves as a luxurious escape from the hustle and bustle of Marrakech.
As the first fashion museum in Africa, the institution will dramatically boost the Marrakech's reputation as a cultural hotspot. 'When Yves Saint Laurent first discovered Marrakech in 1966, he was so moved by the city that he immediately decided to buy a house here,' the late Pierre Bergé told us before his death last month, when we went to document the museum's construction for our September issue (see W*222). 'It feels perfectly natural, 50 years later, to build a museum dedicated to his oeuvre, which was so inspired by this country.'

Designed by Paris-based Studio KO, the museum was Bergé's personal project. He was its mastermind and driving force, overseeing every aspect of its design, construction and programming with his exacting eye. Visiting the site each month, Bergé lived to see the completed exterior, which was finished in July this year. 'Pierre had worked with Studio KO previously on a 20th-century villa in Tangier, so he already knew them well,' says museum director Björn Dahlstrom. 'They are young and talented and I think they were absolutely the right choice for this project. Working with them was like working with family – very easy, they were dedicated. I think it would not have been so easy with a big-name architect.'
Inside, the museum comprises a 400 sq m permanent exhibition space designed by Christophe Martin, a temporary exhibition space, a research library with over 6,000 volumes, a 150-seat auditorium, and a bookstore and terrace café. Its interiors are an elegant reinterpretation of traditional Moroccan materials such as local brick, brass, black granite, laurel branches and oak. All of the door handles and hardware are made locally by metalworkers in the medina. 'The architects wanted to take these very traditional materials but use them in a very contemporary and modern way,' says Dahlstrom. 'Pierre insisted on materials such as the terrazzo, and in every shade – nougat, black, grey, pink, white – as well as the stained glass that you see in the entranceway.'

In the main exhibition hall, Martin has conjured an atmospheric show of 50 carefully chosen pieces that are displayed on mannequins lined up like regimented troops. The chosen pieces revolve around themes dear to Saint Laurent – masculine-feminine, black, Africa and Morocco, imaginary voyages, gardens, and art.

Spotlit in the darkness, the garments are backdropped by catwalk film and imagery, which are projected onto the walls. Upon entering, the designer's drawings, fabric samples and sketches glide by across a wall of video screens that invite visitors to immerse themselves in Saint Laurent's working process.

The museum will not only display the garments but also become a world specialist in conserving extraordinary collections. The museum's basement levels will store 1,000 couture garments and accessories lent by the Fondation Pierre Bergé-Yves Saint Laurent in Paris, as well as 3,000 non-exhibited pieces from the Berber Museum at the Jardin Majorelle.

In the temporary exhibition space an inaugural show – titled 'Jacques Majorelle's Morocco' and curated by Félix Marcilhac – will offer the public the chance to view thirty important works by the artist that have been lent by private and institutional Moroccan collections. 'Pierre Bergé saw all of the sketches and paintings,' says Dahlstrom of the three-month-long exhibition. 'He signed off on all of it, everything. He was here on the ground overseeing every step of this project.'
INFORMATION
For more information, visit the Musée Yves Saint Laurent website (opens in new tab), the Royal Mansour website (opens in new tab) and the Kasbah Tamadot website (opens in new tab)
ADDRESS
Rue Yves Saint Laurent
Marrakech 40000
VIEW GOOGLE MAPS (opens in new tab)