We talk bikes and Belstaff with David Beckham at the launch of 'Off Road', a new book he stars in shot by Peter Lindbergh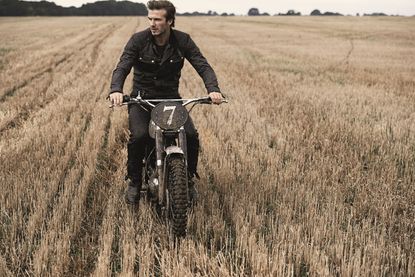 (Image credit: Peter Lindbergh)
Wallpaper* Newsletter
Receive our daily digest of inspiration, escapism and design stories from around the world direct to your inbox
Thank you for signing up to Wallpaper. You will receive a verification email shortly.
There was a problem. Please refresh the page and try again.
Football star David Beckham is also a motorcycle fanatic, which made him a perfect candidate for the face of Belstaff. Not only has he designed a 15-piece clothing collection for the British brand, but he is also featured in an advertising campaign and a limited-edition photography book entitled 'Off Road,' both lensed by Peter Lindbergh. Here, we speak to Beckham at Belstaff House in New York, two days after his wife presented her own fashion collection:

Wallpaper*: You're turning 40 next year - it's a classic move for a lot of men to get into motorcycles in mid-life. How are you feeling about the arrival of 40?
David Beckham: Well I'm excited about it. I'm not one of these people who is not looking forward to getting old. I'm happy with where I am in life. I've had a pretty successful career on the pitch and now, since a year and a half ago, off the pitch. There are many things I'm working on - working with companies like Belstaff. I have four amazing children, an amazing wife. I actually started riding eight years ago, so the mid-life crisis… it started early!

W*: You fell recently off your bike, didn't you?
DB: Yeah. It was not a great experience but I was lucky - I only suffered a few cuts and bruises. Riding bikes is dangerous at times, but so is walking down the street.

W*: What are some of your favourite motorcycle designs?
DB: When I first started riding I actually went for a Ducati. It was something that I had always looked at when I was a young kid… the design of that bike is just incredible.

W*: What did you buy next?
DB: A friend of mine had a 1950s chopper in LA. That got me thinking about building a bike. So I went into a place in LA called the Garage Company, which is owned by a Japanese guy called Yoshi and he has an amazing bike builder. We just sat down and I showed him exactly what I liked, what I didn't like - and I think I annoyed him because it took about a year to build the bike. Every time I went in there, every week, I'd ask, 'How's it coming along?', 'What are you doing?' In the end he said, 'Please just leave it to me. Trust me on this one. I know this.'

W*: What does it look like?
It's a free knucklehead. It's a new engine, but all the parts are 1920s and 1940s. So the bike has been kind of pieced together. That was the bike that I got knocked off of. It was sad to see the state of it. It's getting put back together now.

W*: So you like vintage designs?
DB: Yeah. I like modern bikes but the bike I ride all the time is a 1960s Norton. But the knucklehead is kind of a special bike that I always go to. It's kind of like the [clothing] range for Belstaff, it's kind of beat up, and got an old-looking feel to it. And it runs well.

W*: Your wife Victoria was a recent design awards judge for Wallpaper*. Are you into design as well?
DB: She's in charge of the house. But I have my input. I'm allowed my input into one or two rooms, which I'm excited about it [laughs].

W*: Your man cave being one of them?
DB: Yes. [laughs]. Seriously, though, I love great furniture - I go from modern to vintage chairs and tables. It's changed over the years. When you get older, you start changing and you start liking things like… flowers. I'm trying to keep it manly, but….

W*: What kind of flowers?
DB: There's one in particular I like …. [pause]. But I can't remember the name.
Receive our daily digest of inspiration, escapism and design stories from around the world direct to your inbox