The surreal world of Isabella Blow is recreated in a new London retrospective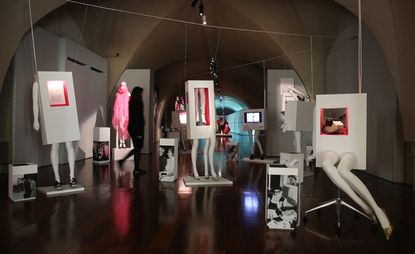 (Image credit: Peter MacDiarmid)
Inside 'Isabella Blow: Fashion Galore!', the late stylist's retrospective at Somerset House, exhibiting over 100 items from her personal collection within installations by Shona Heath and Carmody Groarke.
True fashion bowerbirds of the Marchesa Casati and Elsa Schiaparelli ilk are a rare species, hailing from an era where artful preening was an act for the self rather than the lens of street style photographers. Yet the late Isabella Blow is one of a handful of exotic creatures who will be immortalised in the history books - and now in a new retrospective exhibition at London's Somerset House, framed by installations by set designer Shona Heath and architecture firm Carmody Groarke.

Celebrating the spirit of the surreal, 'Isabella Blow: Fashion Galore!' is a theatrical recreation of Blow's fantastical world as a style icon, designer muse and fashion patron, before her life came to a premature end at her own hand in 2007.
Spanning her estranged aristocratic upbringing (her grandfather squandered the family fortune, which essentially drove Blow towards fashion to make a living), to her climatic styling career as a visionary talent scout and image-maker, Blow's eccentric legacy is brought back to life with an intimate insight into her smallest idiosyncrasies – from her preference for writing in pink ink to signing letters with an imprint of her signature Chanel Rouge Coromandel stained lips.

Fittingly housed within London Fashion Week's home, the beautifully realised exhibition was enabled by Blow's couture confidant Daphne Guinness (also a distant relative), who scooped up her entire collection before it could hit Christie's auction block back in 2010, also founding the Isabella Blow Foundation, which raises funds to promote both fashion and mental well being.
Alongside her iconic dresses and architectural hats – Erik Halley's Dali-inspired Swarovski crystalled lobster has a starring role – the exhibition's curation by Alistair O'Neill and Shonagh Marshall is as enchanting as Blow's fashion pages envisaged during her years as Tatler's fashion director and the Sunday Times Style's style director. The highlight being Shona Heath's installations, masterfully reborn as scenes from the Natural History Museum – the natural world being a running Blow obsession.

Similarly pivotal is Carmody Groarke's recreation of Doddington Hall – Blow's ancestral estate in Cheshire, built between 1777 and 1798 by architect Samuel Wyatt (although Isabella herself grew up in a smaller house on the margins of the estate). The stylist's endearing love of the English countryside has been re-told through a conceptual hedge garden, complete with a neon light fountain by Tim Noble and Sue Webster from her personal art collection.

Opening with a quote from the young Isabella Delves Broughton's 1988 Tatler contributor profile, the eclectic stylist summarises her fashion approach: 'I do historical research, I find unbalanced people, I choose photographers and places to shoot them.' From there, the showcase flashes back to family albums from her early life, through to the breakthrough A/W 1996 collections she styled for friends Alexander McQueen and Philip Treacy that ultimately led to the coining of the fashion genre 'Cool Britannia'.

Much more than a clotheshorse (in fact she used her adornment as armour), Blow became a champion of the British fashion scene, in the end possessing one of the most important private fashion collections of the late 20th, early 21st centuries.

We spoke to Kevin Carmody, founding partner of Carmody Groarke and former Wallpaper* Handmade collaborator, about his studio's year-long role in planning and executing the exhibition…

W*: What was your approach to creating spaces within spaces at Somerset House?
Kevin Carmody: An exhibition at Somerset House represents a challenge to a designer, because the space is characterful and anything but a typical 'white box' gallery. Our approach was to plan 'rooms' which told the story of a woman whose interest and influence were incredibly varied; as such the intimate parts of the gallery tell the more personal part of her story, whereas the double height spaces are dedicated to significant Alexander McQueen and Philip Treacy shows. We also worked closely with the set designer Shona Heath, whose installations and mannequins are set against the framework of 'rooms' and are intended to bring Isabella's character into each space.

Where did you begin your research?
We didn't visit Doddington Hall, but worked closely with the curators who had intimate access to the clothes and artifacts Isabella left behind. We began thinking of the show using an existing detailed archive of her wardrobe as well as the inspiration that the curators drew from the spaces that inspired her. Some parts of the exhibition attempt to recreate the atmosphere of Doddington Hall that was obviously such an important place in her life.

What were the project's greatest challenges from an architectural perspective?
The challenge of a show of this type is to bring together lots of different influences and exhibition material into a coherent narrative. As we researched her life and the significant influence she had on a few designers, it was clear there was not one single narrative but many strands that defined her work – as such we wanted to bring distinction to each particular chapter of the show and let her character and the clothes be the thread that ran through the whole show.

Tell us about the final space reserved for Alexander McQueen's S/S 2008 'La Dame Bleue' show dedicated to Blow after her passing?
The intention was to bring some of the atmosphere and proportion that defined Alexander McQueen's famous show. The design of the room is intended to evoke the alter space of the church, while emphasising the vertiginous nature of the space.

What is your highlight from the exhibition?
The show is very varied. Composing the area that features Philip Treacy's wonderful hats was exciting, while the areas known as the 'The Formal Garden' and 'La Dame Bleue' bring a simple spatial approach with a single material idea which let many of the outfits speak for themselves.
ADDRESS
Somerset House
Strand, London WC2R 1LA
Receive our daily digest of inspiration, escapism and design stories from around the world direct to your inbox