Sign of the times: England's historic shoemaker Church's elevates the sneaker scene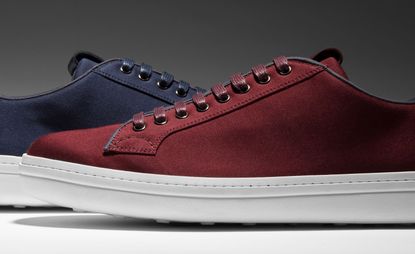 (Image credit: Church)
Church's, one of the world's finest shoemakers, is joining fashion's designer sneaker spate with a fittingly elegant incarnation for its sporting debut. Made from English calfskin, suede or gabardine cotton, the 'Mirfield' style, with its uniquely raised rubber sole, walks in store today as a testament to the British heritage brand's modernity.

Founded in 1873 by Thomas Church, the house drew upon a century's worth of shoemaking know-how, passed down through the Englishman's family, dating back to 1675. 'The new Church's sneaker (opens in new tab) represents the completion of our men's footwear collection,' explains Stefano Cantino, group marketing, communication and commercial development director. 'They are manufactured with premium materials and the same craftsman attention that have always characterised the heart of the brand's identity.'

Despite being bought by Prada in 1999, Church's has maintained its historic headquarters in Northampton - a town renowned from medieval times for its handmade shoe industry - safeguarding its traditions and integrity. 'The Church's sneaker responds to the development of Church's future collections,' continues Cantino, 'and is dedicated to the expectations of our clientele, who are constantly in search of excellence and elegance.' A mission close to our heart too.