Cult denim brand Re/Done flirts with collectible homeware
'This is a natural progression of our brand's story, and something we've found our community to take great interest in,' says Sean Barron, CEO and co-founder of Re/Done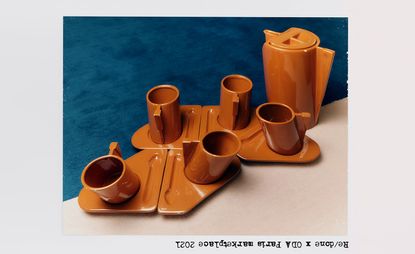 (Image credit: RE/DONE)
Known for vintage-inspired and upcycled denim, LA-based indigo brand Re/Done adds to its Marketplace initiative with a curation of midcentury homeware items, selected by Paris design gallery and agency Objets d'Affection (ODA). But just why is the clothing company dabbling in tabletop, lamps and vases?
'While fashion and homeware are seemingly separate categories, they both fall under the same overarching umbrella of design,' says Sean Barron, CEO of Re/Done, which he co-founded with Jamie Mazur. 'People resonate with a brand for its values, and branching into other categories provides better understanding of what those are. This is a natural progression of our brand's story, and something we've found our community takes great interest in,' Barron continues.
Re/Done: Denim meets collectible homeware
Barron and Mazur called on the husband and wife co-founders of ODA, Arnaud Dollinger and Ève Ducroq, to curate a selection of unique, highly desirable items from the gallery's extensive collection. The items are available to purchase, alongside the denim, at Re/Done's Marketplace online and at the brand's Melrose Place flagship.
Twentieth century interior design enthusiasts, Ducroq and Dollinger started out as vendors at the renowned Marché Paul Bert Serpette flea market in Saint-Ouen, north of Paris. Today, the pair run their showroom and agency in Paris' Marais district. The 30 hand-selected items for sale from Re/Done include a 1970s Plexiglas Pierre Cardin lighter, several 1960s minimalist vases by Cari Zalloni, a set of four 1970s travertine stone objects by Fratelli Mannelli, and a 1970s 'STP-808A-Nivico' portable record player by JVC. 'These vintage pieces contain stories of past lives that emulate midcentury Californian glamour, all the while maintaining a French, avant-garde feel,' says Ducroq.
Re/Done launched its Marketplace initiative in June 2020 with the intention of 'democratising access to hard-to-find collectibles and paying homage to the objects that inspire our heritage-focused design'. ODA's Dollinger says the two companies found they shared values for 'preservation of the past, sustainable consumption, and high quality, timeless treasures'.
In much the same way as clothes do, these items for the home surround us and impart a particular influence on our daily lives. 'When things were at their worst with Covid last year, we all had to turn inward and inside. It made us realise the importance of finding beauty in everyday objects, particularly in the home,' says Mazur.
INFORMATION
Tilly is a British writer, editor and digital consultant based in New York, covering luxury fashion, jewellery, design, culture, art, travel, wellness and more. An alumna of Central Saint Martins, she is Contributing Editor for Wallpaper* and has interviewed a cross section of design legends including Sir David Adjaye, Samuel Ross, Pamela Shamshiri and Piet Oudolf for the magazine.