RCA students take over Fendi's new London store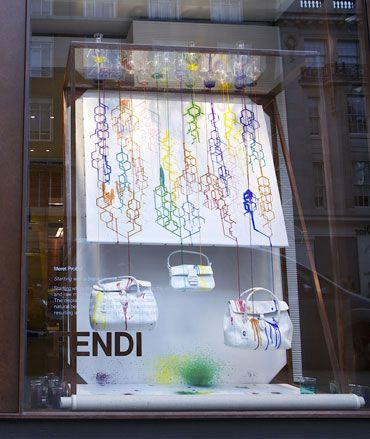 (Image credit: press)
Fendi (opens in new tab) has officially moved into its new Peter Marino (opens in new tab)-designed store in London's Sloane Street. On display next to Karl Lagerfeld (opens in new tab)'s furs and fashion, and Silvia Venturini Fendi's bags, shoes and leather accessories, are works of lesser-known, and rather more local talent: students from the Royal College of Art (opens in new tab)'s Design Products course, who have been given a very open brief by the Rome-based fashion house to do something 'spectacular' with its Selleria line - and that something turns out to be part-performance and part-product.
In Sloane Street, both shop windows have been given over to the students, who were guided by Simon Hasan (opens in new tab), one of the original designers handpicked to take part in Fendi's spectacular Craft Punk project back in 2009 (see W*122). Hasan, whose work is now a regular fixture at Fendi stores, was special project tutor at the Royal College of Art (RCA) for this new Fendi exhibition in London, as well as being one of its alumni.
The displays range from large installations like Lola Lely's 'Kinetic Frenetic' low tech/hi-tech machine and Meret Probst's 'Starting With a Blank Canvas' work, to smaller-scale works, such as 'Anatomy of Fendi', a project in three parts that takes on an almost forensic approach in its application.
To find out more about Fendi's collaboration with the RCA students, you will have to turn to our October issue (out now). Here, however, we take you on a tour of the new store and give you a closer look at the students' work.
ADDRESS
Fendi
181-182 Sloane Street
SW1X 9QP
VIEW GOOGLE MAPS (opens in new tab)