Raf Simons sets his S/S 2014 show among works by Prouvé and Calder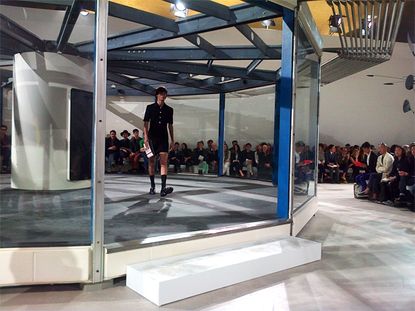 (Image credit: TBC)
Lest we forget that Raf Simons began his career in furniture, the fashion designer chose to show his new collection amid the works of Jean Prouvé (opens in new tab) and Alexander Calder (opens in new tab). The industrial and furniture design-trained Belgian (opens in new tab) tastemaker hasn't looked back since his radical decision to enter the world of menswear and launch his eponymous label in back 1995, but one need only look at his home in Antwerp (opens in new tab) - lined with pieces by Noguchi, Jeanneret, Chambost, Miro and Nakashima, among others - to see his design roots still run deep. So last night, he lured his audience to the Gagosian Gallery in Paris' Le Bourget, where he debuted his S/S 2014 collection in a joint exhibition of two of the titans of 20th century design and art.

Models weaved their way in between Prouvé's 'Station Essence Total' (opens in new tab), an awe-inspiring structure that he proposed as a portable gas filling station in 1970. They strode past guests, some of whom were lucky enough to be seated within 'Pavillon Démontable' (opens in new tab), a monumental prefabricated house that Prouvé constructed in 1944. And framing the scene, were Calder's colourful sheet metal and wire mobile sculptures, the likes of 'Rouge Triomphant', 'Les Trois Barres' and 'Enseigne de lunettes'.

The Jean Nouvel-designed Gagosian Le Bourget has never opened up an exhibition for an external event, let alone a fashion show. But, this being Simons, the gallery happily made an exception.

On display until November, the 'Calder-Prouvé' exhibition (opens in new tab) acts as a conversation piece between artist and designer, and the gallery worked with Galerie Patrick Seguin, who contributed the selection of Prouvé pieces for a side-by-side showing of Prouvé and Calder's works and ideas.

Prouvé is one of 20th-century design's most revered figureheads. Calder too, was prolific - artist, sculptor, and pioneer of the mobile. The coming together of their works for 'Calder-Prouvé' was no accident - the two became great friends in the early 1950s, regularly exchanging ideas on architecture and sculpture. Prouvé, in fact, designed the base structure for Calder's monumental 'La Spirale' mobile (opens in new tab) for the UNESCO site in Paris.

With Simons being a fan of the two artists, the cavernous space proved an apt setting for his Spring showcase. Marrying art and fashion, he employed a colour-pop palette, elongated tunics emblazoned with graphic ad slogans and sharp, bold cuts. Like that of the work of Prouvé and Calder's at the time, it was exciting, new, and ultimately forward-looking.