'One Night Only Roma': Giorgio Armani's fashion blockbuster in Rome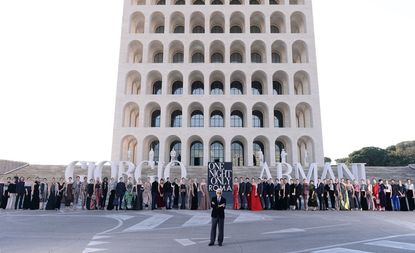 (Image credit: TBC)
Putting faith in Italy when the rest of the country is running for economic cover, Giorgio Armani poured major funds into Rome this week, conducting a triple-decker fashion show for his Giorgio Armani (opens in new tab), Emporio Armani (opens in new tab) and Armani Privé (opens in new tab) labels, plus an extravagant dinner and late-night party for 600.

One of the few luxury behemoths that is still privately owned, the Giorgio Armani Group (opens in new tab) is beating the odds: sales were more than two billion euros last year, up 16 percent from 2011. Feeling understandably cocky during a press conference in Rome this week, the celebrity designer waxed lyrical on a variety of issues, including Italian designers who do not show in Milan during fashion week (an indirect reference to Valentino (opens in new tab), Miu Miu (opens in new tab), Costume National (opens in new tab) and others). 'Milan needs to remain the fashion capital of our country and of the world,' said the designer at the dinner. 'The designers who count shouldn't be decamping to London, Paris or New York. They need to show in Milan.'

The 78-year-old designer put his money where his mouth was, announcing he will open, for the first time, his Tadao Ando (opens in new tab)-designed Teatro Armani (opens in new tab) in Milan as a venue for fashion shows by young designers. Andrea Pompilio (opens in new tab), a hot up-and-comer, will be the first to benefit during Men's Fashion Week in Milan in two weeks' time.

Back to Rome: the Milan-based designer loves it. Humming lyrically about the city, he said: 'Rome always fascinates me. It is such a powerful city, rich in history and unique sights.'

One of those sites is the colossal Palazzo della Civiltà Italiana (opens in new tab), a paean of Italian rationalist architecture built in 1940 in Rome's EUR district, where the fashion show took place. The venue also hosted an expanded version of Armani's touring 'Eccentrico' exhibit (opens in new tab), a selection of statement-making designs that fall outside the bounds of Armani's reputation for greige.

Armani also unveiled a newly refurbished 900 sq m store on Rome's upscale Via Condotti, which features a bespoke accessories department where customers can dream up one-of-a-kind items from Armani Privé.
ADDRESS
Giorgio Armani
Via Condotti 77-79
Rome
VIEW GOOGLE MAPS (opens in new tab)