MCM E-Bike: 3D-printed luxury-industry first
Cycle into the sunset with German luxury label MCM's first 3D-printed E-Bike, designed in collaboration with Urwahn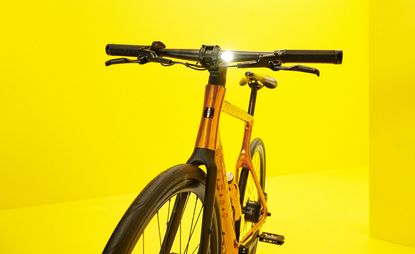 (Image credit: press)
In a bid to forgo public transport and eschew polluting automobiles, our appetite for the e-bike has increased. When it comes to a hot wheel of choice, there are a host of e-bike options out there. In March 2021, Paris-based bike maker Angell launched its high-tech, minimalist design in the United Kingdom, while Barcelona-born Oh! Bike offers the most lightweight e-bike on the market.
Zooming into pole position is German fashion label MCM and its take on the e-bike, an eye-catching 3D-printed design that marks a luxury industry first, and celebrates the label's 45th anniversary. The brand has collaborated on the design with fellow German company Urwahn, which boasts a string of design awards for its 3D-printed steel bike frames.
MCM E-Bike: 3D-printed perfection
This limited-edition design – a luxurious take on commuting – features a coppered 3D-printed steel frame emblazoned with the MCM logo. Thirsty on the move? The style boasts a clip-in water bottle. Its electric drive adapts to an individual's riding style, encouraging urban speed with a strong 40 Nm torque on the rear wheel. The long lasting battery – which offers a range of up to 80km – is integrated discreetly into the down tube of the frame, while the LightSKIN handlebars feature integrated headlights.
'We wanted to develop a collaboration which celebrates the essence of movement from the past to the future. Urwahn is a quintessentially German company renowned for its quality engineering and is the perfect partner with whom we can celebrate our 45-year legacy,' says Dirk Schönberger, MCM global creative officer, of the collaboration. The design forms part of the brand's A/W 2021 M'ETAVERSE collection, crafted to create a nexus between the natural, virtual, and communal worlds, featuring sharp check tailoring, padded outerwear and bold interpretations of MCM's Cubic logo across bright accessories.
Keen to cycle off into the sunset on the copper-toned MCM E-Bike? With only 50 available, we suggest you get on your bike!
INFORMATION
mcmworldwide.com (opens in new tab)