London Fashion Week S/S 2017 womenswear editor's picks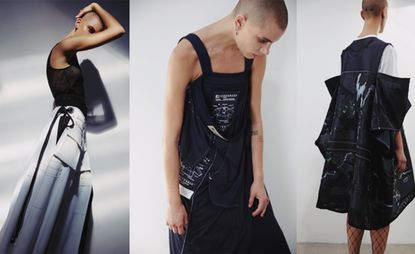 (Image credit: press)
Haizhen Wang: Ever romantic yet with a darker edge always pushing through, Haizhen Wang has integrated elements from 1980s subculture into his S/S 2017 offering. Punky fishnet tights, destroyed denim and contrasting seams and platform soles balanced out the geometric, simple shapes that formed the basis of the collection
Emilio de la Morena: For S/ 2017 Emilio de la Morena drew inspiration from his Spanish heritage. In this vibrantly colored collection the designer explored a variety of Spanish costume silhouettes, which were all crafted from different intricate fabric techniques traditionally used in Spain. The puffed sleeves and seductive silhouettes gave the collection a powerful look while maintaining the brand's elegant aesthetic
Vivienne Westwood: Unisex is the best word to describe Vivienne Westwood's collections from now onwards. This S/S 2017 collection was the designer's last before she merges men's and women's collections under the one label. This collection, titled Get a life!, after the book of her diaries that is soon to be upon us, gave us a taste of that exhaustive concept. Westwood had fun with garments that can work across both wardrobes: the Prince Charles jacket was a more relaxed version of her usual tighter tailoring and the Pierrot neckline was explored in gender-neutral shirting. Looser fitting silhouettes were carried through into eveningwear, and even a top that incorporates corsetry boning was made less overtly feminine by adding a freer layer
Roberts | Wood: For the debut of Roberts | Wood on the London schedule, designer Katie Roberts-Wood presented a collection of organically shaped garments made of light fabrics such as linen and organza. Models shifted through a landscape of cloudy panels, which exemplified the intricate braiding techniques the designer integrates in her pieces
Charlotte Olympia: Celebrating the iconic Carmen Miranda, the lady in the tutti frutti hat, Charlotte Olympia's Let's Go Bananas! show was in full swing. Tutti frutti models and glitzy showgirls danced over the runway presenting tropical accessories such as cheeky Chiquita banana court shoes and embellished fruity baskets
Mulberry: Johnny Coca's spring show blurred the line between the masculine and feminine showcasing utilitarian blouses, short suits and smock dresses in plain khakis and school boy stripes that also took to the addition of ruffled flounces and intricate floral embellishments. The show's Printworks venue offered an industrial edge to Coca's spring presentation. Photography: Jason Lloyd-Evans; Videography: Antonio Camera
Gareth Pugh: The British showman opened his S/S 2017 presentation with sculptural, gold bullion clad wears that quite frankly deserved their own plinths, before posing an ode to the sun gods with radiating sunburst motif tailoring and flowing, Grecian goddess gowns. Pugh's head has been immersed in the 17th century opera Eliogabalo, which he has just designed over sixty costumes for, and his London show possessed all the tyrannical drama of this narrative; his opening designs in fact based upon the chaos symbol.
Mary Katrantzou: (opens in new tab)The Greek born, Londoner unearthed the rich history of her native Greece for S/S 2017. Her set also touched on the country's ancient ties via reflective columns that were strewn about the otherwise stark white runway, each one clad with mirrored panels that bounced Katrantzou's faceted Op Art prints about the Soho show space. Videography: Antonio Camera
Topshop Unique: Topshop offered an amalgamation of looks that borrowed from a variety of sources. One constant influence was nightlife – the club scenes from the 1970s through to today, with its emphasis on individual style were celebrated here. Cocoon jackets and cigarette trousers easily followed sheer gowns with strategically placed paneling and zebra prints in various colourways.
Faustine Steinmetz: This season marked Faustine Steinmetz' debut with the Swarovski Collective. Lounging in cabinets the models on display showed garments crafted from Steinmetz' innovative denim fabrics embellished with clear and denim blue crystals
Eudon Choi: This season Choi built upon his shirting signature with oblongs of cotton draped into utilitarian tops and dresses, often secured with mix matched buttons or trailing tabs, which further emphasised the collection's earthy, if not slightly unraveled, ease that fashion is currently favoring.
Shrimp Converse: Footwear giant Converse has tapped London label Shrimps for its latest Chuck Taylor All Stars collaboration. With Marie Antoinette as her inspiration, designer Hannah Weiland has created three, limited edition styles that incorporate her signature faux fur along with a playful textural combination of lace and broderie anglaise. All of which makes for a rather colourful S/S 2017 sneaker cocktail
Emilia Wickstead: The British designer presented a delicate yet contemporary collection which was inspired by both the work of Frank Lloyd­ Wright as well as the disparate interiors of 'love hotels'. Cut­-out dotted fabrics, powdered florals and a burst of Alexander Calder-inspired prints covered the modern feminine garments.
Belstaff: The adventurous Van Buren sisters Adeline and Augusta served as inspiration for Belstaff (opens in new tab)'s S/S 2017 offering, which had wilderness as its focal point. 100 years ago, these pioneering women crossed the United States coast-to-coast, hence the dusty, rocky desert soil that was scattered at Victoria House, and the matching brown leather pieces that softened up the brand's black leather moto aesthetic.
Globe-Trotter: The luggage brand recently acquired an original 1960's Globe-Trotter trunk owned by former BA air hostess Hilary Farish, whose interior is still wallpapered with travel stickers from her high-flying years jetting between Rio and Rome during the golden age of air travel. The stamp-lined case left a lasting impression on Globe-Trotter designer Charlotte Seddon's S/S 2017 offering, inspiring new interior graphics that draw upon the vintage sticker collection
Phoebe English: The designer's personal writing came to life in a poetic performance featuring seven characters wearing English's signature asymmetric garments of sheer, knotted and delicate fabrics. Set in seven linked settings, the cast of her meditative play performed the seven actions of seven experiences across seven days
David Koma: Military elements and sculptural sleeves met contemporary sportswear and futuristic embellishment in David Koma's S/S 2017 collection. Inspired by his childhood in Saint Petersburg the designer showed a modernist interpretation of early 20th century Russian costume, as seen through his signature 1960s lens.
Molly Goddard: Amid the candy-hued and neon-coloured tulle, the girlish smocking and sweet gingham checks, Molly Goddard threw a surprise into the mix. The photographs of Nick Waplington that were printed on t-shirts, added an almost grungy element to this lively show.
Versus: Leather jackets sans pants, knitwear slashed to reveal. Donatella Versace's diffusion line never fails to flash the flesh and this season the barely-there dictate was unanimous. Queue mini kilts, shredded jeans, cropped parkas and glow mesh minis. Somewhat sadly, Gigi Hadid was front row centre rather than on the runway.
MM6: Held at Christie's in Mayfair, MM6's presentation was executed in signature fashion: artists in white lab coats were busy painting 100 of the house's denim Japanese bags. Intriguingly, one of the mannequins sported a manual on 'How to bake your t-shirt' as a top of sorts, firmly placing this presentation in the top 10 of most interesting events this show season
Jack Moss is the Fashion Features Editor at Wallpaper*. Having previously held roles at 10, 10 Men and AnOther magazines, he joined the team in 2022. His work has a particular focus on the moments where fashion and style intersect with other creative disciplines – among them art and design – as well as championing a new generation of international talent and profiling the industry's leading figures and brands.