London Fashion Week Men's S/S 2020 Editor's Picks
From a denim collaboration between Iceberg and pop artist Peter Blake to Saul Nash's debut at Fashion East, Lou Dalton's practical outfits for summer holidays to a live jazz performance by Sons of Kermet at Nicholas Daley, we present the Wallpaper* pick of London Fashion Week Men's S/S 2020...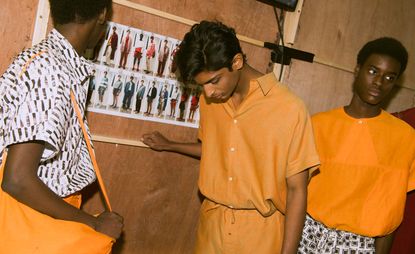 (Image credit: Jason Lloyd-Evans)
E. Tautz: The invitation to the S/S 20 show was a photograph taken by British social documentary photographer Tish Murtha for her Youth Unemployment in the West End of Newcastle series between 1979 – 1981. Creative director Patrick Grant chose a picture of three teens playing cards, a heavily patterned floral wall behind their heads. These flowers inspired the title of the collection – 'Les Fleurs' – and led the research to the easy, pastel style of Barry Manilow. The collection of chic Dolman sleeved shirts, sports shorts and suits in shades of tangerine, red and berry were 'juicy and fruity and floral. The sort of things Barry would wear to sing about the things he loves,' Grant said.
Rahemur Rahman: A weightlessness has come over Rahman during the last six months. 'I came out to my parents and it felt nice. I felt softer. It felt gentle to be me.' The designer collected all of the family photographs he could find; a montage of his grandparents in Sixties Bangladesh, his father in London in the 1980s and memories of himself growing up in the 1990s. 'It's a weird mix but every era kept an aspect of home.' Collaborating with Aryana - a member of the World Fair Trade Organisation - Rahman continues to introduce traditional printmaking from South Asia into his clothes. For S/S20, the textile is inspired by a six colour woodblock khadi print held at the V&A. 'All of the artisans I spoke to said they couldn't do it today as the generation that could was wiped out after Partition. So we worked hard to make it with four colours,' he said. This is cultural identity used as a pass for freedom, rather than a passing fad.
Band of Outsiders: The brand collaborated with Brooklyn-based artist Amit Greenberg for a second time. His playful drawings of characters in high-summer pool party repose were printed on classic, West-coast cool Bermudas, fresh white denims and light, roomy short sleeve shirts. Creative director Angelo Van Mol wasn't interested in cerebral references for S/S20: 'it's about ease, it's about summer. It's about having fun!' Standout the slip-on sneakers with graphic soles produced in collaboration with the Korean brand, Age OFFICIAL.
Fashion East: New to the roster was dancer and designer Saul Nash, who graduated from RCA in 2018. With a BA in Performance Design and Practice, his clothes – shown via dance performance choreographed by Nash himself – reflected a body in motion and had a sensual, sportif look. Zips curved around the legs of tracksuit pants and sleeves, so garments took on new shapes. Panels were sheer. In her second outing, Robyn Lynch recalled her Irish heritage with a range of tonal clothes that brought the summer holidays to mind. With double waist bands and cable knit jumpers cut into sports tops, the collection channelled a youthful carefreeness from a time gone by. The Nigerian-born Mowalola Ogunlesi's clothes felt like a hot slick of chilli oil to the eye; her vision was erotic, masculine and severe. She was inspired by the visceral sensation of intense romance: 'the horrific feeling of love – when your motions are turned to a hundred.' The leather halter jumpsuits knotted at the neck, the stiff denims and hand-dyed lime green cowhide were part Dennis Rodman, part 'Lil Kim, part 1970s trailer park. Utterly right for right now.
Lou Dalton: For S/S20 Dalton imagined a young Prince Charles on his summer holidays; models sat on fold-away camping chairs and stools amidst khaki tents. Dalton isn't preoccupied with conceptual approaches to clothing. There are no grandiose statements being made here – just well-made garments in a raft of delectable colours and fabrics, inspired often by open air affairs. For S/S20 this meant fine gauge sea island knits in collaboration with John Smedley, wide-leg cotton trousers, technical fabric shorts and reversible, showerproof outerwear made with Gloverall.
Iceberg: From Charles Jeffrey's Loverboy nu-punks to the torn tailoring at Art School, rebellion is a running theme to the S/S20 London menswear shows. At ICEBERG, Creative director James Long fashioned a positive display of personalities; the punks of Kings Road met the local Sloanes and South Kensington Goths. The show was an upbeat succession of youthful, colourful clothes. The season marked the debut of ICEBERG ART DENIM – a series of collaborations with artists, starting with Peter Blake's pop-art applied as patches on denim, intarsia knits and punk pop accessories.
Belstaff: Since the 1920s, the British brand has created head-to-toe kit for those with a hunger to explore. The second collection by Creative director Sean Lehnhardt-Moore itself began with a twin discovery in the archives: a neat cotton fishing jacket and a crisp nautical style from the 1970s. The look was light and lived-in – slub yarns and battered jackets that evoked memories of a long, adventurous summer safari.
Bianca Saunders: Saunders was inspired by conversations she had making 'Unravelling', a documentary featuring a group of male friends talking about masculinity. 'I'm always thinking about that balance between masculine and feminine, having the darts go straight up the shirts and the shoulder more relaxed. I want to create the in-between of how things come together,' she said. Models stood around a large, yolk yellow canvas inspired by American painter Barkley L. Hendricks, who has been celebrated for his influence on black portraiture since the 1960s. Elastic ruching twisted single-button tailoring and shirting around the body in a way that felt neither butch or femme. 'A subtle sexiness, but not all the way – that's what I'm trying to do,' Saunders said.
Nicholas Daley: The presentation of Daley's collection took place inside a church founded in the 12th century. He filled it with live, pulsating music and creamy incense. Inspiration came from African-American jazz group Sun Ra Arkestra, in particular their influential LP Astro Black, released in 1973. Daley's passion for sound and its influence on style culminated in a performance by award-winning avant-garde jazz group Sons of Kemet; the energy and craft of the musicians were reflected in the dash and grace of Daley's signature pin-stripes and oversized checks in Irish linen.
London based writer Dal Chodha is editor-in-chief of Archivist Addendum — a publishing project that explores the gap between fashion editorial and academe. He writes for various international titles and journals on fashion, art and culture and is a contributing editor at Wallpaper*. Chodha has been working in academic institutions for more than a decade and is Stage 1 Leader of the BA Fashion Communication and Promotion course at Central Saint Martins. In 2020 he published his first book SHOW NOTES, an original hybrid of journalism, poetry and provocation.