The soft suiting brand inspired by Soviet-era cinema
For its S/S 2020 collection, Russian brand Lesyanebo reinvents the power suit, combining masculine silhouettes with feminine flair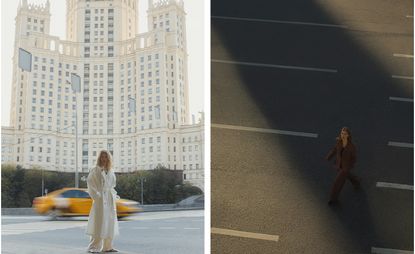 (Image credit: Lesyanebo)
Lesyanebo makes soft suiting the perfect power statement for any woman updating her look in 2020. The timeless tropes of mannish suiting – broad shoulders, notched lapels, deeply cuffed trousers – are combined with bright pops of colour, which designer Olesya Shipovskaya attributes to the nine months of gloom that her home, Russia, experience every year.
'Even though I wear black all the time, complex colours have always been a staple in my design', she says.
For S/S 2020 Shipovskaya dedicated her collection to the 1981 Oscar-winning Russian film 'Moscow Does Not Believe In Tears'. It was especially the colour palette of terracotta, wormwood, dusted greens, turquoise, and lemon yellow that attracted her to the 80s film, set in Soviet-era Moscow. 'Maybe I'm a romantic, but that time period has always attracted me. It's the era that my parents and grandparents grew up in,' she says. And it was Shipovskaya's grandfather who first inspired her to explore the brand's now staple suiting. 'He has a suit for every occasion. I remember every time he would visit from his small town – which is about 15 hours away by road – he would always arrive in a suit to meet me. Every time. No sportswear or comfort clothes. Exclusively suits.'
RELATED STORY
Like a modern-day Marlene Dietrich, the Lesyanebo woman combines masculine silhouettes with a feminine flair. The suit can be all things to all women, worn superlatively well dressed up or down, from early morning until the small hours of the night. In a brilliant merger of casual and considered, Lesyanebos tailoring is the heart of the brand. To go with their smart silhouettes are candy coloured vegan leather jackets and slip dresses. A collarless cropped khaki two-piece, beautifully draped palazzo pants and colourful city shorts with slouchy suit jackets are everything we need. And Lesyanebo has it.
INFORMATION
lesyanebo.com (opens in new tab)