Knight, Pugh and Mercedes-Benz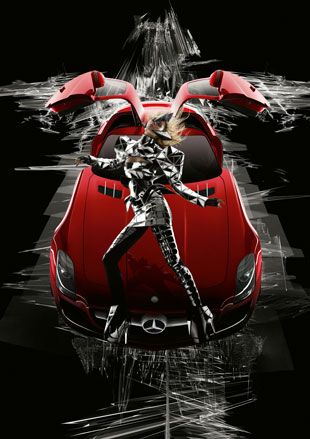 (Image credit: Nick Knight.)
Running in tandem with Mercedez-Benz Berlin Fashion Week - which opened on Wednesday – and on show for a five-day stint, two of the decade's most prominent creative names have joined forces for a one-off exhibition at the Galerie für Moderne Fotografie (opens in new tab).
Curated by the (enviably titled) 'scent artist', Sissel Tolaas, the exhibition will showcase the latest collaborative offering from Gareth Pugh (opens in new tab), Nick Knight (opens in new tab) and Knight's online fashion platform, SHOWstudio (opens in new tab).
In line with SHOWstudio's behind-the-scenes manifesto, the exhibition centerpiece consists of a film – shot by Knight's assistant of four years, Ruth Hogben - documenting Pugh's creative process from conception to completion, as he designs and constructs a body-contorting, angelskin dress.
Pugh's finished piece - alongside three portraits of the designer, shot by Sølve Sundsbø, and a series of shots of the dress taken by Knight himself - will remain on display for the duration of the show.
The joint exhibition coincides with the release of a one-off advertising campaign, produced by the pair for German automobile giant – and Berlin Fashion Week (opens in new tab) sponsor - Mercedes-Benz (opens in new tab).
Granting Knight and Pugh a remarkably open brief, Mercedes-Benz commissioned the duo to come up with the central visual for the newly unveiled SLS AMG.
Combining fashion, technology and design in a potent mix, the campaign - featuring German model, Julia Stegner – encapsulates both Knight's peerless photographic style and Pugh's
sculptural approach.
Adding a few extra strings to their creative bow, Mercedes-Benz also hosted a talk to mark the opening of Berlin Fashion Week.
Featuring Knight; Vice President of Brand Communications at Mercedes, Anders Sundt Jensen, and moderated by Alex Marashian (Editor-at-Large of AnOther magazine (opens in new tab)), the 'Power of Visions' was topic of choice -a platform from which Knight discussed his concept for the campaign, 'for me, the term 'cutting edge' indicates something I haven't seen before. I found the sense of freedom it represents to be seductive – almost like being able to fly'.
ADDRESS
Galerie für Moderne Fotografie

Kirsten Hermann
Schroderstrasse 13
10115 Berlin