Hussein Chalayan opens his first flagship in London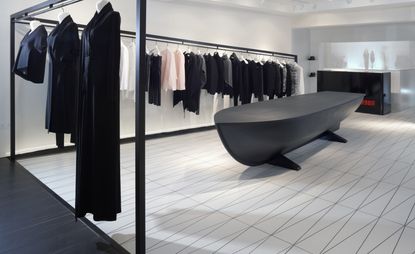 (Image credit: ZCD Architects and Leon Chew)
'The spatial design cannot wrestle with the content for importance,' says fashion designer Hussein Chalayan of his eponymous label's first ever retail space, which opens today in London's Mayfair. 'The important thing is the creation of an environment, a backdrop to the clothes, rather than over-designing the space.'
True to his word, Chalayan's flagship is a subtle, low-key space that reflects the brand's philosophy and ethos. Designed in partnership with his long-term collaborator, architect Zoe Smith (opens in new tab) (of ZCD Architects) – who previously worked on the designer's exhibitions and concessions in Tokyo, Paris and London – the store, he tells us, 'is about creating a space within a space and a new perspective within an existing perspective'.
Upon entering, a liminal zone that marks the transition between street and shop is defined by triangular black floor tiles laid out in a backgammon pattern, that sit in contrast to the matching white tiles beyond.
A sloping black steel frame that wraps around three sides of the space lends the store an intriguing, distorted sense of perspective, while also providing spatial definition and a display rail in one simple gesture. Other features continue the theme of transition: the strip of gravel that lies in between the rail and the wall; the black hull of a boat placed in the centre of the store that can be used as a display or dinner table; and a digit counter display set into a simple black cash desk that serves as a reminder of the endlessness of time.
'We are thrilled to open our first flagship store in London,' says Chalayan, describing the store's W1 locale as an 'up and coming spot' in a new art district within Mayfair. 'For me [London is] the most important metropole in the world, where I grew up and to which I owe my development as a designer.'
INFORMATION
ZCD Architects and Leon Chew
ADDRESS
Chalayan (opens in new tab)
2 Bourdon Street
W1K 3PA, London