G-Star Raw launches its most sustainable denim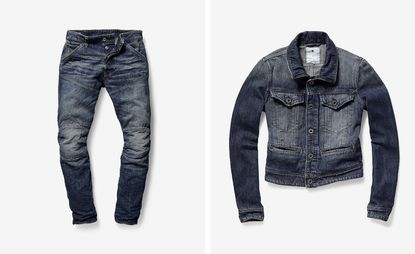 (Image credit: press)
The denim industry is one of the most notoriously polluting in the world: we all have heard about China rivers turning blue because of chemical-laden indigo dyes and about the 7000 litres of water it takes in average to manufacture a pair of jeans. So hearing that G-Star Raw is launching its most sustainable Elwood RFTPi jean is a news that fills us with hope.

'We have been working on this particular project for the past two years, but it's taken a lot longer than that to get started and to find the right partners, the ones that would commit to accompany us every step along the way', explains Frouke Bruinsma on a chilly Amsterdam morning in the uber modern OMA-designed G-Star Raw HQ. Frouke has been working with the company for the last 14 years, and founded the Corporate Responsibility department (which she directs) to create social development projects in the countries where jeans were produced.

'We started by setting up a local production office in Bangladesh to take full control of our supply chain there… but very soon we understood that there was a lot more we could do', she says. That's how G-Star Raw started experimenting with different projects, at first tentatively, then, little by little implementing more and more their findings in different fields of sustainability in their regular production.

'There was the social aspect, the organic aspect, recycling, waste management, renewable energy… We have grown to understand all of that, and, what's more, the public has grown with us. When we launched our first organic cotton products, a decade ago, they didn't sell very well. Today, our customers are asking for it, and asking for total transparency in our supply chain as well, which is amazing'.

Ultimately, these 14 years of learning and evolving have led to the creation of the Elwood RFTPi, the first denim range to ever receive the Gold Level certification by the Cradle to Cradle Products Innovation Institute. As Frouke says, 'to achieve this, we started by developing the cleanest indigo dye in the world, using 70 per cent less chemicals. We then cleaned up our washing techniques by employing sustainable technologies and renewable energies to recycle and re-use 98 per cent of the water (the other 2 per cent evaporates). We used 100 per cent organic cotton, better for the soils and ecosystems, and removed all products that were not easy to recycle, like zippers for instance'.

The result is not only a new capsule collection for men and women, but also an open-source access to all these sustainable development processes, which can now be accessed by every brand in the industry through the Cradle to Cradle Institute. 'We can all benefit from this', says Frouke. 'And hopefully, in time, each one of our products will be as sustainable as the Elwood jean.'

When I ask her if an even more sustainable jean is conceivable, she swiftly responds: 'Yes. We are already working towards it'. It's little surprise considering the history the brand have in denim innovation. Its Aitor Throup-led Raw Research lab constantly leads new developments using the material, like untreated calico denim and hand dyed indigo denim. Stay tuned!
INFORMATION
For more information, visit the G-Star website (opens in new tab) and the Cradle to Cradle Products Innovation Institute website (opens in new tab)