Celine S/S 2019 Paris Fashion Week Women's
Hedi Slimane presents his anticipated debut for the house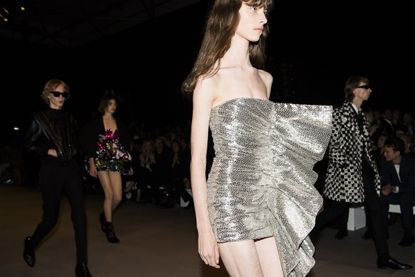 (Image credit: Jason Lloyd-Evans)
Scene setting: In Paris, the anticipation for Hedi Slimane's debut collection for Celine has been palpable. It's been two years since the designer left Kering-owned Saint Laurent, leaving with him a storied tale of profit making and marketing magic. We've had snippets of Slimane's new vision for the LVMH-owned house, that was creatively helmed by Phoebe Philo for the previous decade: there has been a new logo (an accent removed from the first 'e', and a focus on a former 1960s typographic style) and a teaser of the brand's new '16' bag on the arm of Lady Gaga.
Images of the brand's new women's and men's advertising campaign were posted on Instagram and plastered all over the streets of Paris. For his S/S 2019 debut, Slimane showed his collection in a dark show space at the historic Hôtel des Invalides. As the show began, a jagged mirrored wall was revealed at the head of the catwalk so Slimane's first model reflected in multiple cross sections of glass before she emerged.

Mood board: In Slimane's exclusive interview with Le Figaro, published on Tuesday, the designer spoke of 'starting a new chapter for the house'. He also emphasised he would not 'derogate from [his] style, from what made [him]', and like the two drummers from la Garde républicaine who opened and closed the show, he was well and truly moving to his own beat. Slimane is renowned for his rock 'n' roll, tapered aesthetic, and this was high on the agenda for his new vision for Celine. Titled 'Paris La Nuit', there were references to 1970s Cold Wave and mod culture, and the collection culminated in skinny suiting for men, and after-dark partywear for women. All shimmering micro mini dresses, fur coats, cropped tuxedo jackets and a daring flash of leg. This was a slightly softer, more romantic vision, with voluminous pouf dresses, net fascinators and plenty of ostrich feather trim. Slimane, renowned for bringing the skinny suit to Dior Homme, also presented a more unisex vision for the brand, with the entire men's collection also available for women.

Team work: In his vision for Celine, Slimane has also added a couture atelier to the house, and a fully hand embroidered dress, teddy jacket and kimono showed off not just the skills of his new artisans, but also showcased a collaboration with Swiss-American artist Christian Marclay. The sequinned pieces featured colourful vintage-comic inspired embroidery, and demonstrated just one element of the new visual language, which Slimane has bought to the brand.