Sonia Rykiel S/S 2019 Paris Fashion Week Women's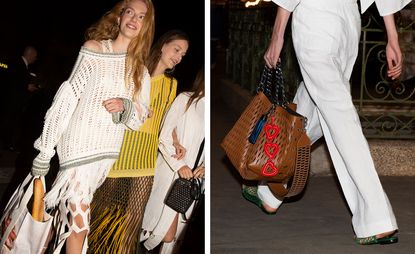 (Image credit: Jason Lloyd-Evans)
Scene setting: Considering that fashion is France's second-biggest industry, and Paris is the global capital of fashion, that for all the streets named after generals and colonels, none bears the name of a designer. Well, that was the case until yesterday. Just before Sonia Rykiel's latest show, the capital's mayor Anne Hidalgo, revealed (together with Nathalie Rykiel) a new blue-and-green plaque bearing the name 'Allée Sonia Rykiel' on the Rive Gauche. It's not a grandiose, institutional street, but a long alley off boulevard Raspail where, every day, Parisians can find a traditional organic market including bakeries, fishmongers and fruit, vegetable and cheese stands. It was here, under the brightly striped tents and the lightbulb garlands, that the show took place.

Mood board: For designer Julie de Libran it was more than ever about honouring the real Parisiennes and their day-to-day dressing, just as Sonia Rykiel did. There were no evening gowns, no silk chiffon or ostrich feathers in sight. This season, the Rykiel woman is not the one busy seducing at night, but the one who wakes up the next morning and lazily puts on a mac to pop off for croissants – a reality for many a Parisian. And so she was dressed in the brand's classics: chunky knits, twisted and shredded and put together emulating raphia market bags. Marinière stripes in tops, dresses and coats. Linen onesies. And, of course, loose trench coats. A casting of models including Dree Hemingway, Adesuwa, Lili Sumner and Grace Hartzell were joined on the runway by a few men, kids and even a couple of dogs. After all, that's what the weekend market is about.

Soundbite: 'Sunday's organic market is my obsession', said de Libran, a Rive Gauche dweller herself. 'And this place reflects the sense of responsibility I have always felt as a creator, producer and mother. This collection is my first to consistently use materials that are kinder to the planet; a starting point, small steps, but important nonetheless. This is a significant detail revealed by the designer prior to the show. It makes perfect sense that, just as the house's founder answered to the needs and wants of the women of her time, de Libran might do the same with her own generation.