Altuzarra S/S 2018
The Paris-born designer stages a triumphant homecoming show for S/S 2018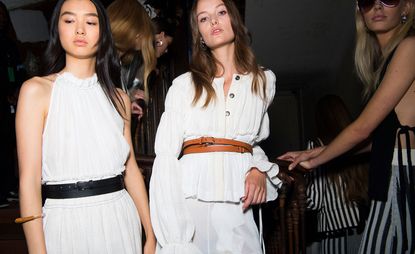 (Image credit: Jason Lloyd-Evans)
Mood board: Paris-born Joseph Altuzarra has a strong handle on both the American and French fashion scene. Before founding his own eponymous line in 2008, the New York-based designer worked at both Marc Jacobs and Proenza Schouler in the Big Apple, before returning to Paris to work as first assistant to Riccardo Tisci at Givenchy. His designs first caught the eye of Anna Wintour and attracted many other clients, because of their instrinsic Frenchness. His alpha woman pencil skirts, stilettos and sophisticated materials looked like something out of a Carine Roitfeld dream. But somehow, they also manage to look utterly American when seen through Parisian eyes. That's why guests - and mostly French ones - were beyond curious last night to see what the designer would present in his first ever show in Paris Fashion Week. Would he feel more at ease here or would he choose to affirm his transatlantic identity?
Best in show: Sure enough, the show opened with what is perceived as a staple of provocative Frenche attire: black fishnet fabric, was used not to create stockings, but as the fabric of a see-through mid-calf dress. It was a recurring theme in the collection- fishnet fabric was also layered overy pretty delicate cami-dresses (an all American staple), with titillating effect. There were Greek-inspired peplum shirts in pleated cotton gauze, kaftan-inspired dresses complete with tassels and Mongolian-influenced brocade sleeveless jackets lined with shearling. Which was, indeed, more of an approach to the way French women like their wardrobe. But there still was a sense of sleekness, an obsession with perfection - what the French would call 'trop sage' - that made it feel, once again, American and ultimatley Altuzzara.
Finishing touches: Accessories have never been more prominently featured in an Altuzarra show: most looks were complemented by bags in weaved leather, macramé , shearling and suede. They had a genuinely bohemian feel to them, yet they felt luxurious, perfectly corresponding to the aesthetic that has made Joseph Altuzarra one of the darlings of fashionistas everywhere. And it was the bags, too, are sure to spark the interest of not just French, but all European shoppers.
Receive our daily digest of inspiration, escapism and design stories from around the world direct to your inbox