Paco Rabanne A/W 2020 Paris Fashion Week Women's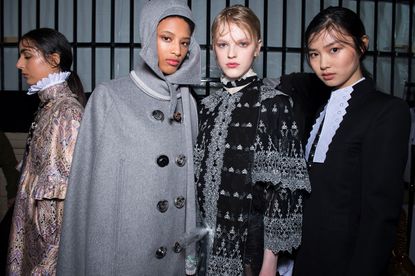 (Image credit: Jason Lloyd-Evans)
Mood board: Fashion's role in female empowerment is a constant topic of discussion during fashion month, as brands work to present strength and power without resorting to gimmicks or marketing tricks. Paco Rabanne has a long history of liberation. In the late sixties, the label's metal disc-emblazoned dresses were a symbol of space age discovery. 'Super refined even fragile, but a fragility that gives you strength,' was how creative director Julien Dossena described the feminine power he wished to convey for A/W 2020. He presented a sorority of chainmail-clad women, resembling Joan of Arc knights, belly dancing temptresses or masked mystical priestesses. The other armour in their arsenal? Dossena zipped between the past and present, conveying a 'collision of times', with puritanical suiting, twinkling bodysuits resembling medieval armour, lacquered leather military coats, ceremonial smocks and tasseled knitwear in swathing monastic shapes. Silhouettes associated with male power were usurped, and imagined more sensually for women. 'Femininity is an attitude that's also violent,' he added backstage, 'and women need to express that.'

Scene setting: Dossena switched Rabanne's usual Grand Palais setting, in favour of the impressive arch-lined medieval palace Conciergerie. It was here that Marie Antoinette was imprisoned before she was sent to the guillotine. Models walked through its enormous history-lined hall in a monastic procession to operatic church music.

Finishing touches: The sixties and seventies is a constant source of inspiration for Dossena, who last season looked to flower power and psychedelia. For autumn, he paired his strong, ceremonial silhouettes with sky high platforms.