Kwaidan Editions A/W 2020 Paris Fashion Week Women's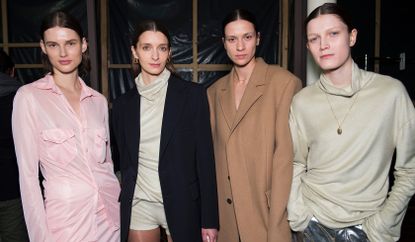 (Image credit: Jason Lloyd-Evans)
Scene setting: A small, square catwalk spotlit at the center of a dark room was what guests found upon arriving at the Salle Wagram for Kwaidan Editions' second Paris show. It was one of those all-standing shows that create a different atmosphere to the usual hierarchical fashion week one, with all guests chatting merrily, having equal chance to get a good view of the show. It was a fitting metaphor for what the brand founded by Léa Dickely and Hung La stands for: trendiness without being too much of a follower; a fashion edge without pretension, desirability without losing sight of personality. It's a difficult balancing act and one that is rarely achieved by many of their competing brands, yet Dickely and La seem to be growing more comfortable in that tightrope each passing season.

Best in show: The duo stayed consistent throughout the collection, expanding on their established trademarks rather than blindly going for newness: like last season, fluoro lime green (singer Billie Eilish's hair colour is so hot right now) featured prominently, this time combined with powdery beige tones, navy blue and touches of pink and silver. The silhouette was inspired by the nineties: backstage before the show, Dickely spoke of the influence of PJ Harvey, clearly visible on the drop shoulder, waist-cinching button-down satin shirts. Kwaidan's best-selling pieces were also there, with a nineties sense of minimalism. Oversized coats and suits have been a hit with the brand, and for good reason: they manage to look flawlessly professional while remaining impossibly cool. They're also a nice counterpoint to the naughtier latex pieces, which were a fixture in the duo's collections long before they became super trendy on catwalks around the globe this season.

Finishing touches: Dickely and La tend to keep things simple when it comes to accessories, but when they do accessorise, it's always for good reason. This season was no exception: chunky silver hoops complemented every look, and shoes were kept on the nineties side, in the shape of pointy-toed, kitten-heeled mules echoing the colours and materials of the collection, with a few white sneakers exceptions. Peeking from underneath XL sleeves, latex shopping bags actually looked like a compelling way to complete a suit (not an easy task), and a sky blue baguette-like leather piece was pure millennial arm candy.