Celine A/W 2019 Paris Fashion Week Women's
Hedi Slimane subverts bourgeois Seventies style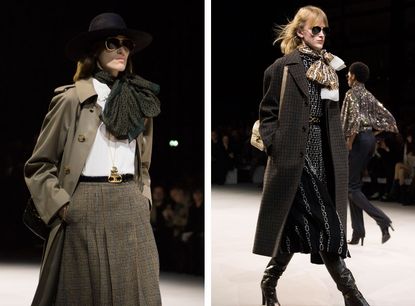 (Image credit: Jason Lloyd-Evans)
Scene setting: As the Celine show began inside a black box show set at Les Invalides, a curtain at the end of the runway dramatically dropped away. Revealed was a floating mirror-lined room suspended in the air by a huge robotic arm. Inside, was a model, exuding insouciant 1970s glamour and sporting brown check culottes, a white blouse, black blazer, glossy knee-high boots, a foulard neck scarf and aviators. The giant robotic arm placed the box down onto the catwalk. The model exited, strutting onto the runway.

Mood board: For autumn, hemlines were lowered, the micro mini dress shape of S/S 2019 swapped for more a demure dimension: knee-length culottes or pleated skirts. Legs covered by shiny leather boots. Slimane can lay claim to ultra sexy thigh-skimming shapes. A master of execution, he switched his expected silhouette on its head for autumn. The look, all capes, fur coats, blue denim and silk dresses, with smatterings of sequin and leopard print, was exuberantly 1970s, and nodded to an earlier era of Celine. When Slimane presented his first show for the house last season, critics questioned how his aesthetic would relate to that of the Phoebe Philo era. For A/W 2019, he bypassed the recent creative legacy and dived into the bourgeois heritage of the brand, beloved by Parisian doctor's wives. In black and white Celine ads from the 1970s, knee high boots, waistcoats, horse-bit belts and gold-buttoned details are all on display. There's an incredible amount for his modern customers to love here too.

Best in show: Come autumn, aviators will be most sought after sunglasses choice, caps will be swapped for wide brimmed hats and the only belt you'll want to wear will have a horse-bit detail.