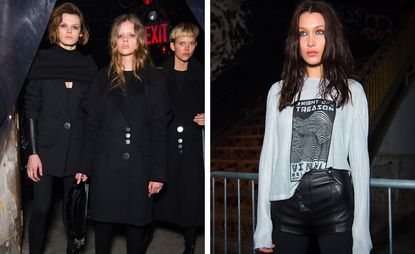 (Image credit: Jason Lloyd-Evans)
Scene setting: Showgoers trekked to 146th Street in Harlem, to the majestic, yet dilapidated RKO Hamilton Theater, which was built in 1913, and has had several incarnations — a church, a boxing auditorium, a disco and a retail space — before becoming the scene for Alexander Wang's (opens in new tab) A/W 2017 runway show. The cheeky 'No After Party' message at the bottom of the invite alluded to the capsule collection that would be released the day after the show, displaying the text, which was an irreverent message to counter Wang's highly anticipated after parties. There may have been no after party this season, but the runway show itself was a party of sorts, as cups of Peroni were doled out upon entering and exiting the venue.
Best in show: Wang paraded out a series of edgy, black, party girl — the irony! — looks that kick started his career. Mini leather shorts, worn with tights and topped with a long-sleeved Night of Treason punk band t-shirt and slinky black party dresses — the kinds of things that defined the Alexander Wang brand — came out, but the tailored, sculptural black coats accented with large circular metallic buttons that opened the show were the strongest pieces.
Finishing touches: Ball studs lined the soles of black boots, giving them a distinct accent that will surely be copied in the coming months. Silver fringe lined the pockets of western-inspired checkered jackets.