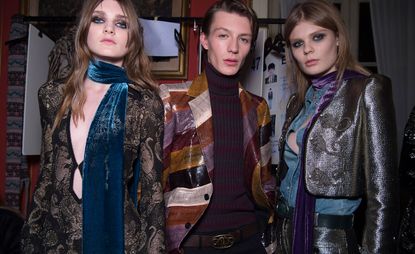 (Image credit: Jason Lloyd Evans)
Mood board: Peter Dundas pushed the rewind button at the House of Cavalli this season, boldly returning to the female glamour sticks he so dearly loves. Gone was the hard core 1980s of last season and in its place a new take on decadence. He referenced the Art Nouveau period in his press notes but all we saw here was backstage at a Hendrix concert as Dundas unleashed his fashion urges through his preferred era of the louche, lean 1970s.

Best in show: Without a doubt, Dundas' outerwear won the award for best in show. In particular, the opening intarsia fur cape that was inlaid like a giant Moroccan tile floor and an embroidered velvet poncho had all of the romanticism and sophistication that lies under the surface of the willful Cavalli woman.

Finishing touches: Most of the women in this show were so skinny that they appeared as giant gilded grasshoppers hoisted atop platform shoes. The long wooly scarves that trailed the ground enhanced this ultra thin look.
INFORMATION
Photography: Jason Lloyd-Evans