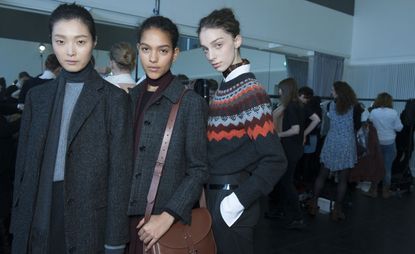 (Image credit: Jason Lloyd-Evans)
Mood board: Tone-on-tone fine wool and tweed silhouettes in whites, greys, khakis and burgundy, combined with low cut patent leather Chelsea boots worn with socks. A calm and composed collection, where androgynous models strolled leisurely past in wide legged slouchy pants and mid-calf length wrap skirts, leather skirts and shearling vests, all images of practicality and warmth.
Scene setting: The grey concrete Rambert Dance Company building on the South Bank - minimalist and austere - matched Margaret Howell's characteristically classic colour palette and cuts. Quite unexpected was the soundtrack: light-hearted songs, like disco ballads - we'd almost think the reserved Howell woman was pondering love.
Finishing touches: Further softening the looks was the hair: there were romantically tousled locks by Anthony Turner, who opted for slightly puffed up knots with tufts of hair escaping. Fine, near-invisible, double hairbands added some restraint.
Photography: Jason Lloyd-Evans