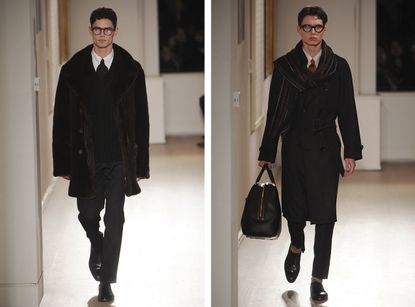 (Image credit: TBC)
Scene setting: Placing its fashion show within the gallery space of reputed auctioneer Phillips had the calculated effect of bringing an air of intellectual sophistication to Dunhill's latest offering. Set against this luxurious modern art backdrop, the troupe of bespectacled models was perfectly at ease.

Best in show: Lots of corduroy trousers and blazers, in classic tones, herringbone jackets and tucked in striped ties were just the right balance for creative director John Ray's idea of the cultured Dunhill man living in a contemporary metropolis.

Finishing touches: On top of this basis of tailored, reliable menswear, the addition of a few oversized backpacks gave a sense of utility that didn't overshadow the elegance of the silhouettes.