North stars: a new exhibition explores the impact of Northern England on fashion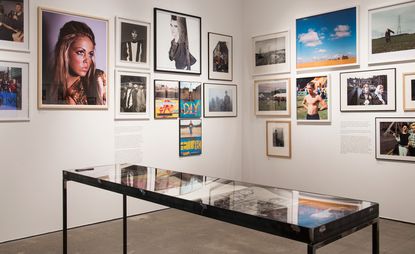 (Image credit: Adam Murray)
Spanning interviews with Northern-born fashion creatives, from stylist Simon Foxton to the milliner Stephen Jones, and exploring the cultural identifiers utilised in contemporary fashion photography, 'North: Identity, Photography, Fashion' presents a multifarious investigation into the influence of the region. 'In fashion exhibiting at the moment there is a trend for blockbusters or single designer retrospectives,' says the shows co-curator, writer and broadcaster Lou Stoppard of this broad and nuanced approach to fashion history. 'We wanted to avoid something that felt too obvious, or too "othered" – we had no interest in displaying fashion as some impenetrable world, far removed from people's reality.'

Launching today at the Open Eye Gallery, a striking glass structure designed by RCKa on Liverpool Waterfront, 'North' is a fashion exhibition with a cross-platform difference. Marking the gallery's 40th anniversary, co-curators Stoppard and the academic Adam Murray bring together fashion garments, photography and artworks, which explore and celebrate the visual identity of the northern region. The exhibition features Madchester-inspired parkas, printed with archive Peter Saville graphics from Raf Simons' renowned autumn/winter 2003 collection, cult Adidas trainer styles and works by photographers and artists including Jamie Hawksworth, Glen Luchford and Turner Prize winner Jeremy Deller.
The building's diverse and varied gallery space affords further breadth to the variety of the works. 'Due to the range of sources we have received work from, the different framing and presentation styles lends itself to this', Murray explains. The first section - photography - is situated in the space's high-ceilinged hall where works are hung in an appropriately abundant salon style. Galleries two and three have been transformed by set designer Tony Hornecker, famed for his fantastical catwalk creations for Meadham Kirchhoff. Nodding to an endlessly recurring reference - sportswear - the second gallery resembles a sports changing room, filled with cubicles and benches. These structures are used to display visual artworks and garments by Raf Simons, Christopher Shannon, John Skelton and Adidas.

With the location of building, just as with the deftly delivered essays and video interviews, context is key as Stoppard and Murray question the often London-centric nature of these interwoven industries and the undeniable influence of the English North.
INFORMATION
'North: Identity, Photography, Fashion' is on view until 19 March. For more information, visit the Open Eye Gallery website (opens in new tab)
ADDRESS
Open Eye Gallery
19 Mann Island
Liverpool L3 1BP