Cold play: Colmar Originals and Au Jour Le Jour's capsule collection is a snow-stopper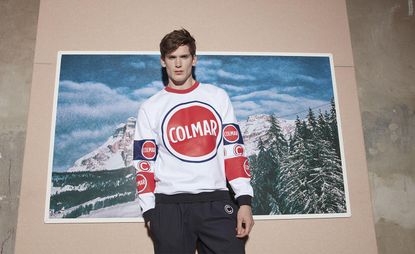 (Image credit: Colmar)
While delving into the Colmar archives, Au Jour Le Jour founders Mirko Fontana and Diego Marquez – researching for their debut capsule collection for the skiwear brand – were particularly taken by a series of advertising campaigns from the 1980s and 90s. 'During the trip, we also selected a piece from the official uniform of the Italian ski team during that period,' the duo say, 'the jacket worn by Alberto Tomba, one of our sports idols.'

Sporting success is synonymous with the Italian performance label, which in the 1930s created an inflating cape for Leo Gasperl, the first winner of the speed ski record. In 1952, Zeno Colò wore the first Colmar-designed aerodynamic ski suit during the Oslo Winter Olympics. But it was Alberto Tomba's colour-blocked red, white and blue apparel that struck a chord with Au Jour Le Jour. Fittingly, the Italian label is synonymous with bold prints and bright hues. 'We were fascinated by the modernity of Tomba's looks', they add.

The collaboration has culminated in men's and women's collections featuring bright colour-blocked ski jackets, finished with nostalgic alpine patches, and a host of sporty separates. This sentimental spirit is also noted in the offering's knitwear, detailed with chalet motifs, mountain scenes and intarsia snowflake patterns.

In the seventies, Colmar launched a series of slogans, including 'In case of snow, Colmar'. A love of logo details is also noted throughout the capsule, the brand's name emblazoned across the chests of sweaters, sleeves and trouser legs. 'It has become an essential and decorative element,' explain Fontana and Marquez, who were also inspired by logo-centric sportswear details from the nineties, ones also noted across the recent S/S 2018 men's catwalks.

'Together, Colmar Originals and Au Jour Le Jour present a project that combines the desire to unite the history of a company, which for over 90 years has made research and development its pilasters, with the style, creativity and refinement of young design,' says Colmar president Mario Colombo. 'The exchange has produced a fascinating collection which perfectly represents the spirit both of both brands. The result was greater than the sum of the parts.' Just like Tomba's Colmar-clad slalom successes, the collection is another victory for the brand.
INFORMATION
For more information, visit the Colmar website (opens in new tab) and the Au Jour le Jour website (opens in new tab)