Best of Haute Couture Week A/W 2022
Taking place in Paris this week, Haute Couture Week A/W 2022 sees the city's historic houses – among them Dior, Chanel and Balenciaga – channel the historic savoir-faire of their ateliers into couture collections for the present day. Here, the best of the week in an ongoing round-up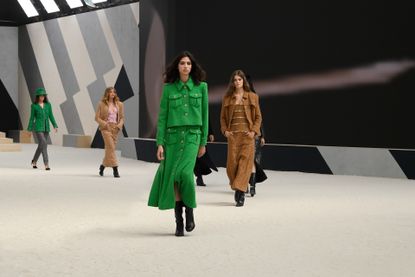 (Image credit: Press)
The haute couture collections represent the very pinnacle of Parisian savoir-faire, seeing the city's historic houses – among them Dior, Chanel, and Balenciaga – flex the might of their ateliers to create clothing defined by breathtaking expressions of craft. But a new energy is emerging in the city too, seeing designers from Daniel Roseberry at Schiaparelli to John Galliano at Maison Margiela Artisanal, explore what the historic art of couture means today. Here, in an ongoing review, the best of Haute Couture Week A/W 2022.
Haute Couture A/W 2022, Chanel to Valentino
Schiaparelli
Daniel Roseberry's latest collection for Schiaparelli saw the American creative director engage in a dialogue with designers past – a reflection of new exhibition 'Shocking! The Surreal World of Elsa Schiaparelli' at Paris' Musée des Arts Décoratifs, which explores both the house namesake's Surrealist influences and those whom she inspired in her wake, from Christian Lacroix to Azzedine Alaïa. So there were touches of Yves Saint Laurent (moulded breastplates, Van Gogh-inspired sunflowers), Jean Paul Gaultier (nipped nude corsetry) and Lacroix (giant gold crucifixes, vast flourishes of satin) appearing across a celebratory, unrestrained collection which bridged past and present. 'I always talk about trying to achieve that state of creative innocence, of fighting to stay close to that person who fell in love with fashion and its possibilities,' said Roseberry. 'I hope that spirit comes through in this collection… [I hope people feel] the joy we felt [making it], of creating things, of getting to make beautiful objects that people will always remember.'
Dior
The 'tree of life', a symbol which has traversed cultures and time, provided the starting point for Maria Grazia Chiuri's latest haute couture collection at Dior(the house called it 'an emblem of universal reach'). Ukrainian artist Olesia Trofymenko – continuing a long line of female artists that have collaborated with the house under Grazia Chiuri's tenure – created the set, which saw her folk-inspired embroideries blown up as the runway's backdrop. Embroidery became central to this latest offering, with intricate motifs adorning cotton, wool, silk and cashmere dresses in romantic silhouettes – an expression, says the house, of the 'virtuoso savoir-faire' which has defined the Dior haute couture atelier since its beginnings. 'Thanks to refined gestures of the hand,' says Dior, 'the tree of life is thus transformed into a manifesto for harmonious plurality, allowing a restoration of balance, if only momentarily'.
Chanel
Virginie Viard described her latest couture outing as 'graphic' – a favourite word of forebear Karl Lagerfield, the designer noted – beginning with a shade of green inspired by a brightly hued jacket worn by Inès de la Fressange in a Chanel couture collection in the 1980s. Amid a colourful set by French artist Xavier Veilhan, such vivid swathes of colour were evident throughout a collection that '[invoked] geometric statements through optical illusions imbued with lightness and resolute modernity', as the house described. Indeed, despite the multi-layered expressions of craft – hundreds of embroidered leaves, painted lace, delicate dustings of sequins and feathers – there was a clarity to Viard's vision, with graphic motifs and sculptural silhouettes emerging throughout a collection which captured the French designer's modern, easygoing take on the historic art of haute couture.
Giorgio Armani Privé
Giorgio Armani titled his latest Armani Privé collection 'Pétillant' which translates to English from French as 'sparkling' (the term is perhaps most associated with the traditional method of creating sparkling wine). Here though, it referenced a multiplicity of elements that shimmered in the show's light – whether dangling bead fringing, sequin trims, or diaphanous mesh crystal tops. Another word the designer used was 'realism', noting that the louche silhouettes referenced the 1920s, finding particular inspiration in the art deco painter Tamara de Lempicka. 'Echoes of her rebellious elegance are felt in the succession of silhouettes, first minimal and linear, then voluminous and evanescent,' said the house. 'The light refracted by the embroidery takes over the persistent magical movement that sends a message of pure, feminine energy.'
Balenciaga
For his second haute couture collection, Balenciaga creative director Demna looked towards an unexpected collaborator, the applied science division of car manufacturer Mercedes-Benz. They had worked on the face-covering masks – ink-tinted, aerodynamic, anti-fog, moulded and polished by hand – worn by models across the collection's first 38 looks. Combined with Demna's contemporary riffs on haute couture (neoprene utilised as an alternative to traditional silk gazar, T-shirts bonded with aluminium for sculptural silhouettes, narrow-waisted corsets built into shirts) they had the uncanny effect which has defined the designer's tenure at the house so far. The show ended with a series of increasingly grand gowns – such was the size of their crinolines that they barely fitted through the doorways of the salon-style rooms – and a slew of celebrity models, including Kim Kardashian, Nicole Kidman and Dua Lipa, for a defiant vision of what haute couture can look like today.
Maison Margiela Artisanal
During the pandemic, John Galliano proved adept at translating his vision for Maison Margiela into the digital realm; his various films, created in collaboration with Nick Knight, were some of the highlights of the lockdown genre. This season, returning to the runway with his Maison Margiela Artisanal line, Galliano noted that he wished to translate this newfound creative outlet into a physical experience. As such, 'Cinema Inferno' was born, an in-theatre happening which combined film, performance and runway show as a dynamic new way to showcase his collections at the house. The story itself transported the viewer to the American open road, tracing a couple through the Arizona desert, providing context for a collection which drew on the archetypes of the country's style (cowboy hats, leather boots, denim and the like) and mixed them up with Galliano's flair for eccentric, unrestrained glamour.
Fendi
During British designer Kim Jones' tenure at Fendi thus far, the Italian house's home city of Rome has provided the starting point for his haute couture collections. His first, in 2021, drew inspiration from the travels of the Bloomsbury set from London to Rome in the 1920s; subsequent collections have referenced Roman architecture and landscapes, from the lines of Fendi's monumental 1938-built Palazzo della Civiltà Italiana headquarters (known as the 'the square colosseum') to the colours of the Eternal City's pavements. This season, though, he looked further afield with a collection which drew inspiration from 'fragments of cities' – namely, Kyoto and Paris. 'I wanted to step away from Rome, or at least I wanted to place Rome in a global context,' Jones said. '[We looked] at fragments of different cities: Kyoto, Paris and Rome. The fragmentary nature of things is echoed throughout the collection, like snatches of memory or the impression of things past, present and future.' As such, Jones amalgamated various inspiration points in singular looks, from slices of 'Kata Yuzen' printed silk panels and kimono fabrics, reimagined as fluid asymmetric dresses, to abstract interpretations of 18th-century Japanese illustrations adorning shaved-mink tailoring. Despite its various layers of reference, a feeling of lightness prevailed: 'luminosity, lucidity and ease', as the house described.
Valentino
'The Beginning' was the title of Pierpaolo Piccioli's latest haute couture outing for Valentino, taking the house back to its native Rome – where the atelier is based – for a dramatic show on the historic Spanish Steps. Pursuit of beauty provided the impetus for the collection, which demonstrated Piccioli's innate command of the craft of haute couture. A rich palette, a defining facet of Piccioli's tenure at the house, met moments of haute couture flourish – one gown appeared like a giant red rose, crafted from taffeta, others were adorned by bows, feathers, and ruffles. Nonetheless, a feeling of ease continues to run through Piccioli's silhouette, an undone glamour that the designer himself deems 'imperfect', 'far from the canon… that broadens the spectrum of beauty'. Ultimately, though, this was a collection which came down to the craft of haute couture, reimagined for today: 'Everything starts anew where everything invariably begins: in Rome, in the Atelier, the place where creations and inventions come to life through the hands and stories of those who actually make the clothes,' said the house. 'The manner hasn't changed. Not even the address has changed. And yet everything has changed.' §
Stay tuned for more Wallpaper* coverage from Haute Couture Week A/W 2022
Jack Moss is the Fashion Features Editor at Wallpaper*. Having previously held roles at 10, 10 Men and AnOther magazines, he joined the team in 2022. His work has a particular focus on the moments where fashion and style intersect with other creative disciplines – among them art and design – as well as championing a new generation of international talent and profiling the industry's leading figures and brands.