Biking with Celine's S/S 2022 menswear Cosmic Cruiser collection
Haute wheels: Hedi Slimane's FMX motocross racers burnt rubber on the Île du Grand Gaou in the south of France in celebration of Celine's neo rave-inspired S/S 2022 menswear collection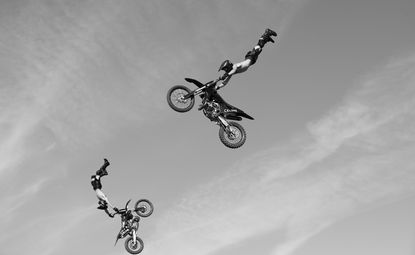 (Image credit: press)
Escapism has been a pervasive influence on the S/S 2022 menswear catwalks, from Loewe's hedonistic ravers to Lanvin's paradisal shore seekers. Hedi Slimane has had a sense of adventure on the mind since Celine's runway shows moved online, offering panoramic sweeps and spectacular drone-shot footage of deserted motor racing tracks, sports stadiumsand 16th-century castles, where his E-boy-inspired rebellious renegade models strode amongst twisting turrets and sporting lanes.

For Celine S/S 2022 menswear, Slimane looked to the rocky shores and shadowy woodland enclaves of Île du Grand Gaou in the south of France, where a host of FMX motocross racers burnt rubber biking through dusty forest and performing daredevil tricks on a behemoth stunt ramp. Speedy, stealthy and soaring through the air, Slimane's bold bikers were a symbol of a liberated escapist spirit that was synergistic with Celine's collection, an offering of neo rave-inspired silhouettes, shimmering with sequins, swathed in leather and denim, cartoonish motifs, leopard print and a party-all-night sensibility.
Celine S/S 2022 menswear: The Cosmic Cruiser collection
An aficionado of the ultra-tapered silhouette, Slimane widened his tailoring intentions for S/S 2022, featuring bell-bottomed trousers and grungey ultra-wide-leg denim on the catwalk, alongside tuxedo jackets, sequined blazers and check shirting, paired with gothic chokers and mirrored sunglasses. Models sported shimmering kaftans sparkling with palm tree landscapes, harnesses and bleached denim in a rave-meets-rocker, Woodstock-come-Warped Tour combination.
Slimane is no stranger to an artistic collaboration, and Celine's S/S 2022 collection featured a collaboration with 14 artists: Amy Dorian, Anna Hofmann, Emerson Snowe, Anne MacKenzie, Harry Wyld, Marcelo Lavin, Mary Herbert, Paige Mehrer, Paisley Verse, Sara Yukiko, Scott Daniel Ellison, Scott Reeder, Sophy Hollington and Tyler Childers.

For Slimane's Gen Z-minded shoppers, the future has a luxe, liberated appeal, encouraging a shirking of the shackles that have limited the young worldwide in the wake of the Covid-19 pandemic. His haute wheel-centric FMX bikers are bringing an escapist spirit to experience, and they're travelling at speed.
INFORMATION