Book: Graphic Design For Fashion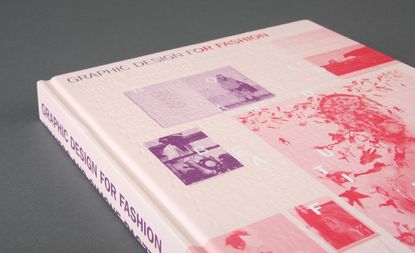 (Image credit: press)
As avid Wallpaper* readers will know, we never let a good fashion show invitation pass by unnoticed. In the battle of brand one-upmanship, these oversized calling cards get more ambitious with every season. Alongside everything from logos to lookbooks, they are the fruits of an extraordinary creative relationship - illuminated in new tome, Graphic Design For Fashion - in which the cross-fertilisation of ideas breeds playful, surprising and often outlandish results.

'Fashion gives you a certain freedom of creation - you can experiment, play, have fun,' say graphic designers Antoine + Manuel (opens in new tab) of their work for Christian Lacroix (opens in new tab) in the book. Their layered textures, geometric forms and detailed illustrative gestures not only adorn the label's printed material but often add an explosive element to the Lacroix catwalk. 'Fashion constantly changes, so you can dare - you don't always have to be "right",' they add.

By listening in on the dialogue between designer and client, Graphic Design For Fashion, by Jay Hess and Simone Pasztorek of studio byBOTH (opens in new tab), is much more than just a survey of strong work. Split into four neatly navigable chapters - branding, invitations, lookbooks and packaging - it swings from the making of Mevis & Van Deursens' wax-seal logo for Viktor & Rolf (opens in new tab) (which, in black, has 'a posh, absurd, fetish-like quality', they say) to Mind Design (opens in new tab)'s alternating cardboard and vacuum-packed foil creations for Lacoste (opens in new tab) by Tom Dixon.

The invitations chapter is - of course - a highlight. Across its pages, you'll find everything from Studio Small (opens in new tab)'s whole-punched invitations for Margaret Howell (opens in new tab), to Paul Boudens' (opens in new tab) designs for Haider Ackermann (opens in new tab) and Yohji Yamamoto (opens in new tab).
Of the latter, Boudens says. 'For me working for Yohji Yamamoto was a marriage made in heaven. Especially in the beginning, I was able to fully use my range of skills: the painting, the hand-made feeling, classic typography, gorgeous paper choices and perfectionist finishing.' Boudens takes pains to imprint his work with the mark of a human, rather than a computerised 'robot', as his Yamamoto invitations - stitched together or splashed with red paint - are testament. 'I do not want to become a computer nerd, the life would go out of my work,' he says - a good one to remember, should a bout of technophobia ever strike.