Designer Pierre Kaczmarek on revitalising Georges Wendell, the brand he bought for one euro
Having taken one fashion label to global success as a teenager, Paris-based designer Pierre Kaczmarek's new project Georges Wendell is inspired by the unique characters of his home city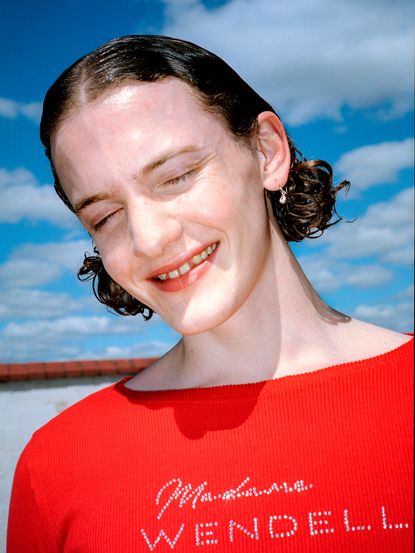 (Image credit: Leonardo Scotti)
At age 23, Pierre Kaczmarek is unlike the majority of his generation. For a start, he's already taken one self-started business to global recognition, and then closed it at its peak when he realised it didn't suit his creative trajectory. He also considers himself an old soul, valuing sharing lunch and stories with Paris' garment-district elders over building his social media presence. 'I may be older in my mind, and I have to keep in mind it's important to live in our world so it's important to be social, but personally, I'm more in the moment,' says Kaczmarek, whose latest project is revitalising previously defunct label Georges Wendell.
It's no wonder Kaczmarek has a seasoned view on life: he started his career aged just 15, and at 19 was nominated for an ANDAM Award for his first line, Afterschoolwork, which he started with his friend Elena Mottola. Such approval resulted in Afterschoolwork being stocked in over 80 retailers, and working with global PR agency KCD. 'It was really spontaneous; we didn't care about the rules. And in some ways, it was good. It inspired a lot of young people and I'm super proud of this. But it's crazy how I was able to manage. I was not thinking. I had no plan. And that's why at the end it was complicated to continue.'
Kaczmarek took the opportunity to reassess. 'I thought: It's good, but it's not what we want to do. [Afterschoolwork is] really fashion, really creative and crazy. My friends can't wear this, they are doing normal studies, they will be doctors and lawyers. I wanted to dress my friends.'
Fast forward and now Kaczmarek is days away from showing his Georges Wendell S/S 2023 collection in Paris. It will be a small presentation at Lapérouse restaurant, similar in setting to Chez L'Ami Louis, where he showed his A/W 2022 collection. 'After fashion, food is my favourite thing,' he says. This mode of showing his clothes – intimate and personal, in lieu of a catwalk presentation – is intentional. 'You have the chance to really interact with people and get feedback. That's why I'm making fashion, to meet people from every part of the world.' The setting is also a post-Covid recalibration: 'I'm still young and I need to connect. I'm better when I speak to people.'
New menswear: Georges Wendell A/W 2022
He chose to re-energise the existing, albeit relatively unknown, brand rather than start again under his own name as he prefers anonymity. 'I bought the brand for one symbolic euro', he explains. 'I didn't want to put my name on the label, because I'm not that egocentric and I think I don't have something personally to bring to fashion. I'm not Iris Van Herpen, I'm not bringing something incredible like a 3D dress.'
Kaczmarek lives in the 10th arrondissement, close to the Canal Saint Martin, and has an office in the Marais. He says office, rather than studio, as you won't find a sewing machine there. 'Sketching is not really my thing. I prefer to write. I was doing literature first, I was about to go to school to study politics and I chose to do fashion instead,' he explains. That decision caused a falling out with his mother, with whom he has now reconciled; she had worked on the commercial side of the business for Brunello Cucinelli and Saint Laurent, before opening a store on Rue Saint-Honoré (she is now retired and lives in Toulouse).
His clothes for men and women are louche and with afterhours sex appeal, vintage in feel, yet composed for a cast of archetypal Parisian characters. Jumbo-cord suiting, a knitted cardigan with cut out harlequin design – a nod to theatre – and prints in designs he made himself by screenshotting YouTube videos, including collaged photos and wine glasses on silk pyjamas. Branding is subtly interwoven (his father worked in advertising); trousers and shirting are cut with a 'W' zig zag hemline, some floral prints reveal his monogram.
Kaczmarek has also created an index of silhouettes which he has memorised and named, such as 'SH07' for a style of shirt, which can be realised in a variety of fabrics and colours. Not only does this pragmatic approach make working with suppliers in Portugal and Italy easier, it also helps with running a profitable business, something Kaczmarek learned about first-hand with his first company. 'Since I'm a young designer, I have to be rational, and not spend too much.' He is also conscious of waste, and will introduce small drops via the Georges Wendell website of items such as hairclips, shoe laces or swimwear that can update and satiate an appetite for newness.
Despite his methodical approach, the collection retains a sense of spontaneity, in part because Kaczmarek begins each collection with a conversation with an older friend or a friend of his father's, from which he builds a character for the season. 'I imagine this guy was what I would do in my free time, maybe he's going to the beach or a party. It starts like a narration.' Character building is a big part of Kaczmarek's approach – he uses the email moniker 'Georges' rather than his own name on his email. Paris is a big inspiration, too. 'I really know this city. Sometimes it's boring for me, because I was born and raised here. And it also is not a big, big city. It's too much in me, thankfully, or unfortunately. So, I have to use this knowledge for my brand. I think all Parisians have one part of Georges Wendell inside them.'
INFORMATION
A version of this article appears in the September 2022 issue of Wallpaper*, available in print, on the Wallpaper* app on Apple iOS, and to subscribers of Apple News +. Subscribe to Wallpaper* today!
Receive our daily digest of inspiration, escapism and design stories from around the world direct to your inbox
Tilly is a British writer, editor and digital consultant based in New York, covering luxury fashion, jewellery, design, culture, art, travel, wellness and more. An alumna of Central Saint Martins, she is Contributing Editor for Wallpaper* and has interviewed a cross section of design legends including Sir David Adjaye, Samuel Ross, Pamela Shamshiri and Piet Oudolf for the magazine.
With contributions from