Herbar launches adaptogen supplements to boost energy and brighten skin
New Herbar Skin Pearls use adaptogens to help your skin and body survive the stresses of the day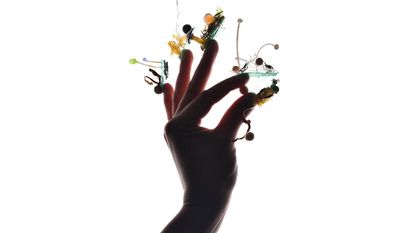 (Image credit: Herbar)
Wouldn't it be great if you had more energy to get to the end of the day without resorting to anything hangover-inducing? And if you could look good on it too? Well, according to Herbar co-founder Catarina Oliveira, she and business partner Rui Liu have created the answer with their new Herbar Skin Pearls.
Packed with fungi, adaptogens, medicinal herbs and botanical extracts, Skin Pearls are designed to brighten skin and improve its resilience to oxidative stress. They also act as a natural energy boost, so much so that Oliveira warns me against taking them with my coffee, before telling me about how her DJ boyfriend used them to stay awake for a set that ran from midnight to 9am.
Herbar Skin Pearls: adaptogens to the rescue?
Despite the warning, I decided to wash the small round supplements down with my coffee anyway, and it is true that I felt a slightly enhanced energy buzz afterwards. It is hard to say whether that is an effect of the pearls, but my interest is piqued enough to keep trying.
The Skin Pearls are the ingestible companion to Herbar Face Oil and 'Gua-Shrooms' (gua shas shaped like mushrooms), which came out last year. Both the Face Oil and the Skin Pearls use a unique blend of adaptogens to get results.
The types and uses of adaptogens are varied but, simply put, they are plants and fungi that respond to physical and toxic stressors – from pollutants in the air to the anxiety of everyday life – by modulating the release of stress hormones from the adrenal glands.
Their particular magic is their ability to adapt to the specific demands and deficiencies of the individual body and, as a result, or so the theory goes, effectively combat feelings of stress, anxiety, fatigue and more.
The adaptogens used within the Skin Pearls supplements include eleuthero, a plant used in traditional Chinese Medicine for everything from increased energy to cancer prevention, improved endurance time for exercise, management of menopause symptoms, and healing of respiratory tract infections.
There are also tremella mushrooms, a vitamin-D packed 'beauty superfood' used to hydrate skin and reduce wrinkles; cordyceps mushrooms, also used for exercise enhancement and anti-ageing benefits; and rhodiola rosea, a flowering plant traditionally used to reduce anxiety and fatigue.
herbarofficial.com (opens in new tab)
Mary Cleary is the Beauty & Grooming Editor of Wallpaper*. Having been with the brand since 2017, she became an editor in February 2020 with the launch of the brand's new beauty & grooming channel. Her work seeks to offer a new perspective on beauty, focusing on the pioneering personalities, product designs, and transformative trends within the industry.