Surf's up! Dior hit the beach with Parley for the Oceans
Made up of 96 per cent recycled fabrics, Dior's new 'eco-innovative' men's beachwear capsule sees the house unite with nonprofit Parley for the Oceans for the second time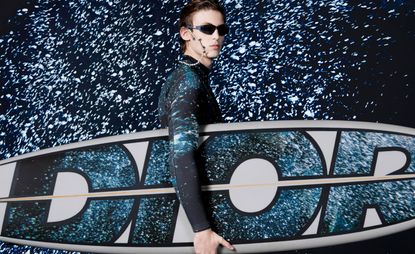 (Image credit: Photography by Jackie Nickerson, courtesy of Dior)
Last April, Dior revealed its first collaboration with Parley for the Oceans, a 'beachwear capsule' designed by Dior's menswear artistic director Kim Jones utilising materials developed from 'Parley Ocean Plastic', recycled marine debris recovered from islands around the world (in particular, the Maldives, Dominican Republic and Sri Lanka).
With summer on the horizon, Dior and Parley for the Oceans unite once again on a capsule collection for the beach, melding the Parisian house's unrivalled savoir-faire with Parley's pioneering work in preventing marine plastic pollution. More than eight million metric tons of plastic trash ends up in the ocean each year; since 2012, the nonprofit has attempted to intercept this waste and utilise marine plastic in various innovative ways, including Parley Ocean Plastic which is used by numerous brands including Adidas in the place of virgin plastics.
Dior collaborate with Parley for the Oceans on beachwear
The collaboration between Dior and Parley is long-running; in 2019, Jones began working alongside the brand and its CEO and founder Cyrill Gutsch on new yarns and fabrics crafted from marine plastic debris and fishing gear. Working in the historic Dior atelier in Paris, these recycled materials were formed into seersucker, 'silky' knits and a new technical fabric featuring the Dior Oblique motif. The hope of the partnership was – and remains – to move towards 'a more eco-innovative, sustainable future of fashion'.
'Wearing a piece of Dior x Parley is an act of rebellion,' says Gutsch. 'It shows that you care dearly. It shows that you want to solve the environmental crisis we are facing, in a creative and optimistic way,'
The new collection is inspired by the 'deep, unbreakable ties that unite with Dior with nature'; in particular, house founder and couturier Christian Dior's love of flowers and gardens, born from a childhood living in clifftop villa Les Rhumbs in Granville, Normandy where his mother would tend her treasured rose garden (fittingly for this collection, the garden looked out onto the ocean beyond). Jones himself also grew up immersed in nature, living between Tanzania, Ethiopia, Botswana and the Caribbean as a child, hailing wildlife broadcaster Sir David Attenborough as his 'style icon'.
The various pieces – in electric shades of coral and lemon, as well as camo and grey, Christian Dior's own favourite shade – combine elements of surf wear, including a Dior-branded surfboard and a series of wetsuits, alongside pieces inspired by functional outdoor attire (fleece jackets, cargo-style shirts, bucket hats). 96 per cent of the collection is made from upcycled fabrics, with around 59 per cent derived directly from ocean plastics.
'Together with Kim Jones and his fantastic team we have delivered the proof that driving the material revolution is not a sacrifice, but answers to a new desire,' says Gutsch. 'To protect the oceans, to protect our climate and to protect our future.'
Jack Moss is the Fashion Features Editor at Wallpaper*. Having previously held roles at 10, 10 Men and AnOther magazines, he joined the team in 2022. His work has a particular focus on the moments where fashion and style intersect with other creative disciplines – among them art and design – as well as championing a new generation of international talent and profiling the industry's leading figures and brands.