Rum punch: Skepta and Havana Club raise the stakes with an exclusive rum blend
Rapper Skepta has blended up a sensationally smooth spirit for a new generation in his latest collaboration with Cuban rum brand Havana Club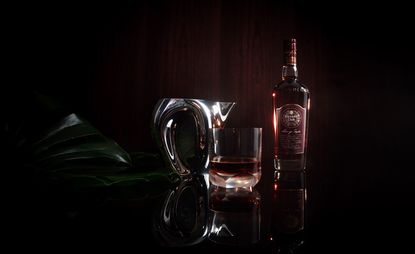 (Image credit: Oskar Proctor)
A veteran of the British grime scene, Skepta first collaborated with the Cuban rum brand Havana Club back in 2019. During a trip to Havana, the internationally acclaimed rapper and producer was struck by the links between Cuban traditions and his own West African heritage, and designed a pair of Havana Club 7 rum bottles, incorporating traditional Nigerian cultural symbols.
Havana Club Rum of Skepta: the creative process
Skepta and Havana Club have now teamed up once again, this time collaborating on creating a unique, one-of-a-kind spirit for a new generation of rum drinkers. The creative process began with another trip to Cuba for the musician, and a rum-and-cigar-tasting session with maestro del ron Cubano (Cuban rum master) Asbel Morales at the Havana Club distillery in San José de las Lajas in order to work out Skepta's particular palate preferences.
'We learnt all about the rum – the theory, the process, the different elements that go into it, and the unique flavours,' says Skepta.
The London-based musician then returned to his hometown to complete the saporific journey. Drawing inspiration from gentlemanly symbols of British culture, the resulting spirit, Havana Club Rum of Skepta, is a full-bodied sipping rum, dark amber in colour, smooth and sweet, with closing notes that capture its creator's sense of style, achievement, values and elegance. The blend is imbued with hints of tropical fruits, oak, cacao and tobacco. 'And it finishes with a nice kick,' adds the musician.
Havana Club Rum of Skepta is available in a limited edition of 3,000 bottles, priced £85/€100 for 70cl. Available in the UK at The Arts Club, Mayfair, and Harvey Nichols, and in Cuba at the Museo del Ron Havana Club. It is also available to purchase online in the UK, Germany, Belgium, Netherlands, Czech Republic and Spain.
INFORMATION